ADult Advent CAlendar 2023
Overview – Adult Advent Calendars 2023
Adult Advent Calendars add a touch of excitement to the holiday season with surprises like fine wines, premium chocolates, and beauty products. Notable brands include Aldi, Fortnum & Mason, and Jo Malone, making December a delightful journey for grown-up indulgence. Find out more about Adult Advent Calendar 2023 here.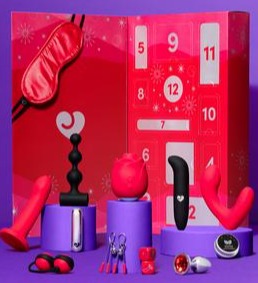 The Lovehoney Rose Sex Toy Advent Calendar 2023 offers a variety of adult toys for women, including the popular Lovehoney Rose clitoral suction toy. Designed for different types of stimulation, it's a delightful way to explore pleasure.
Lovehoney Rose Sex Toy Advent Calendar 2023 – Content
The Lovehoney Rose Sex Toy Advent Calendar 2023 is an intimate adventure featuring a variety of adult toys and surprises. Explore pleasure daily with the acclaimed Lovehoney Rose clitoral suction toy and other tantalizing items designed for women.
Lovehoney Rose Clitoral Suction Stimulator
USB Rechargeable Bullet Vibrator
Metal Butt Plug with Crystal Base – 2.5 inches
Silicone Non-Realistic G-Spot Dildo (bullet compatible)
Satin Blindfold
Silicone Kegel Balls
G-Spot Vibrator
Dice x 2
Nipple Clamps (with jingle bell charms)
Silicone Anal Beads (bullet compatible)
Orgasm Balm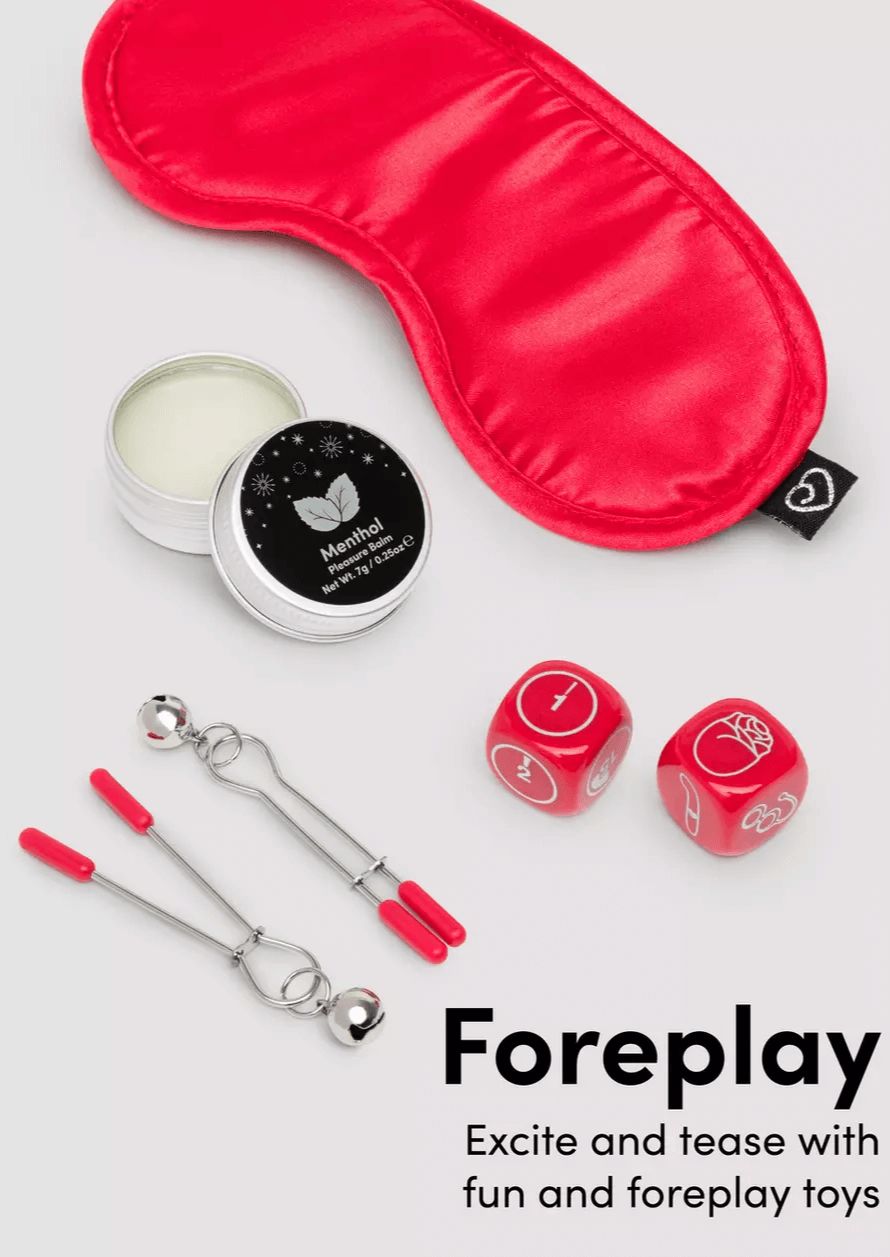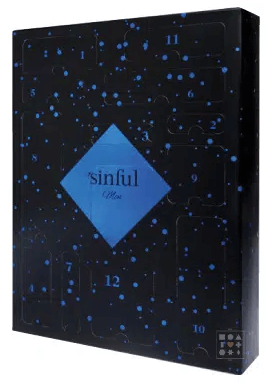 The Sinful For Men Advent Calendar 2023 comprises 12 erotic adult products aimed at men. This unique take on the typical festive advent calendar includes items like vibrating rings and sextoys.
Sinful For Men Advent Calendar 2023 – Content
If you're considering this gift set for someone else and want to know what it contains and if it's worth it, keep reading. If you're thinking of getting it for yourself, be aware that I'll be providing a detailed description of its contents below. You've been cautioned.
Reversible Handjob' masturbation sleeve
Three silicone penis rings, different sizes (3.3cm, 2.7cm, 4cm)
Rechargeable bullet vibrator with remote control
Blue Wave Handjob Sleeve (masturbation sleeve)
Blindfold
Vibrating double penis ring
Small butt plug
Penis vibrator
Stretchable 'donut' penis ring
Neoprene handcuff set
Vibrating anal beads
Masturbator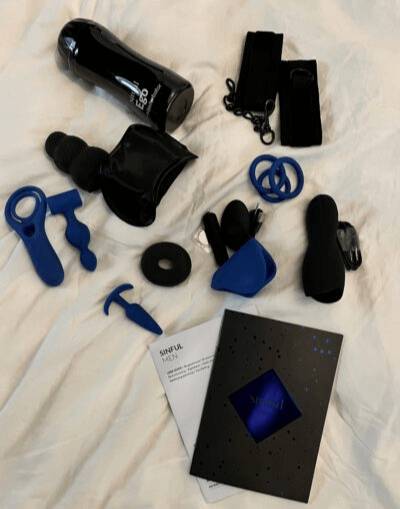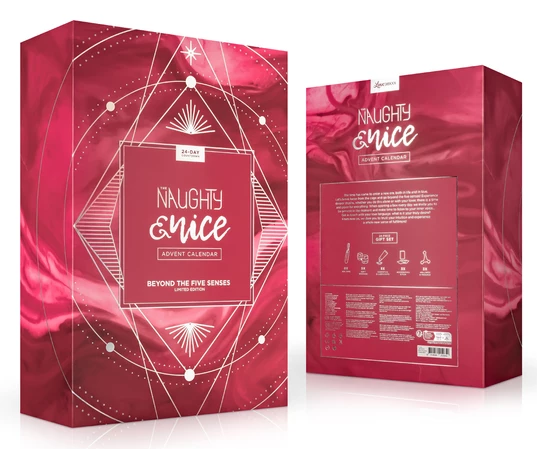 The Naughty and Nice Advent Calendar 2023 contains 24 compartments, each housing a multifunctional adult-oriented product. The array of items, ranging from wellness products to games and bondage accessories, are intended to pique interest and enhance pleasure.
The Naughty And Nice Advent Calendar 2023 – Content
Discover The Naughty and Nice Advent Calendar 2023, featuring 24 adult products for romance and intimacy. Explore pleasure, wellness, and play with items like vibrators, floggers, handcuffs, and more.
Tapping Toy
Body and Room Mist
Bullet Vibrator
Lubricant
Male Stroker
Toy Cleaner
Buttplug
Handcuffs
Thigh Cuffs
Orgasm Gel
Blindfold
Dildo
Toy Bag
Mini Wand Massager
Nipple Suckers
Rabbit Vibrator
Flogger
Position Dice
Adjustable Cock Ring
Massage Oil
Massager
Couples Toy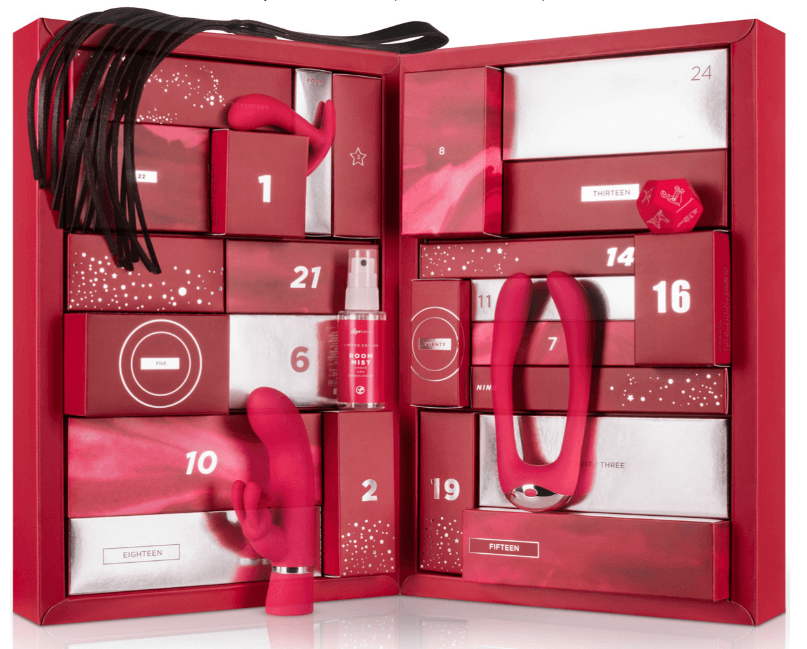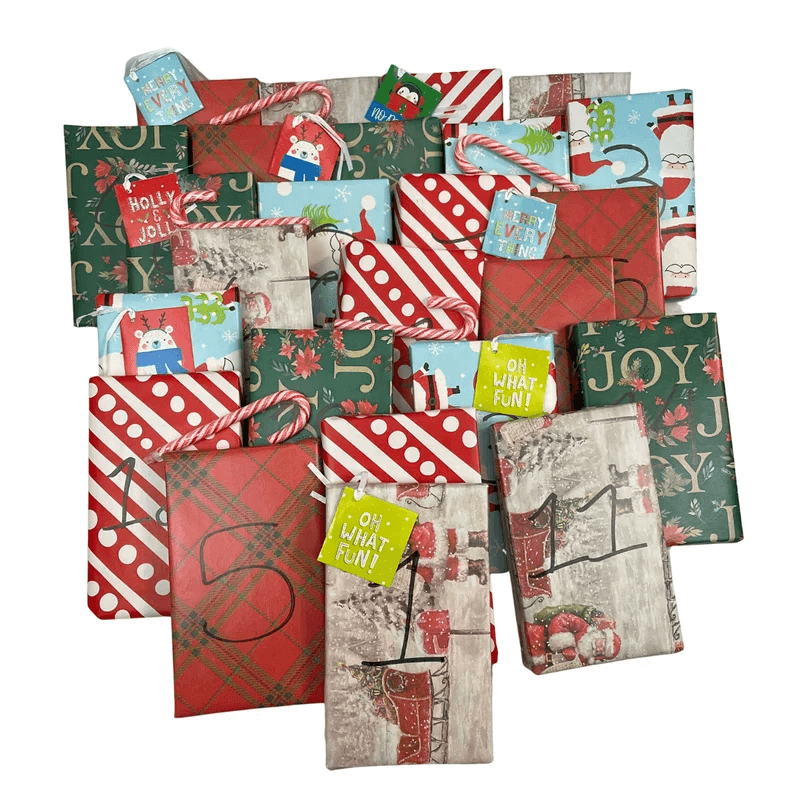 The Holiday Gift Book Advent Calendar 2023 includes 12 pre-wrapped books in excellent condition, with gift tags and candy canes for festive decoration. The book selection varies in genres and audiences, with preferences noted but not guaranteed.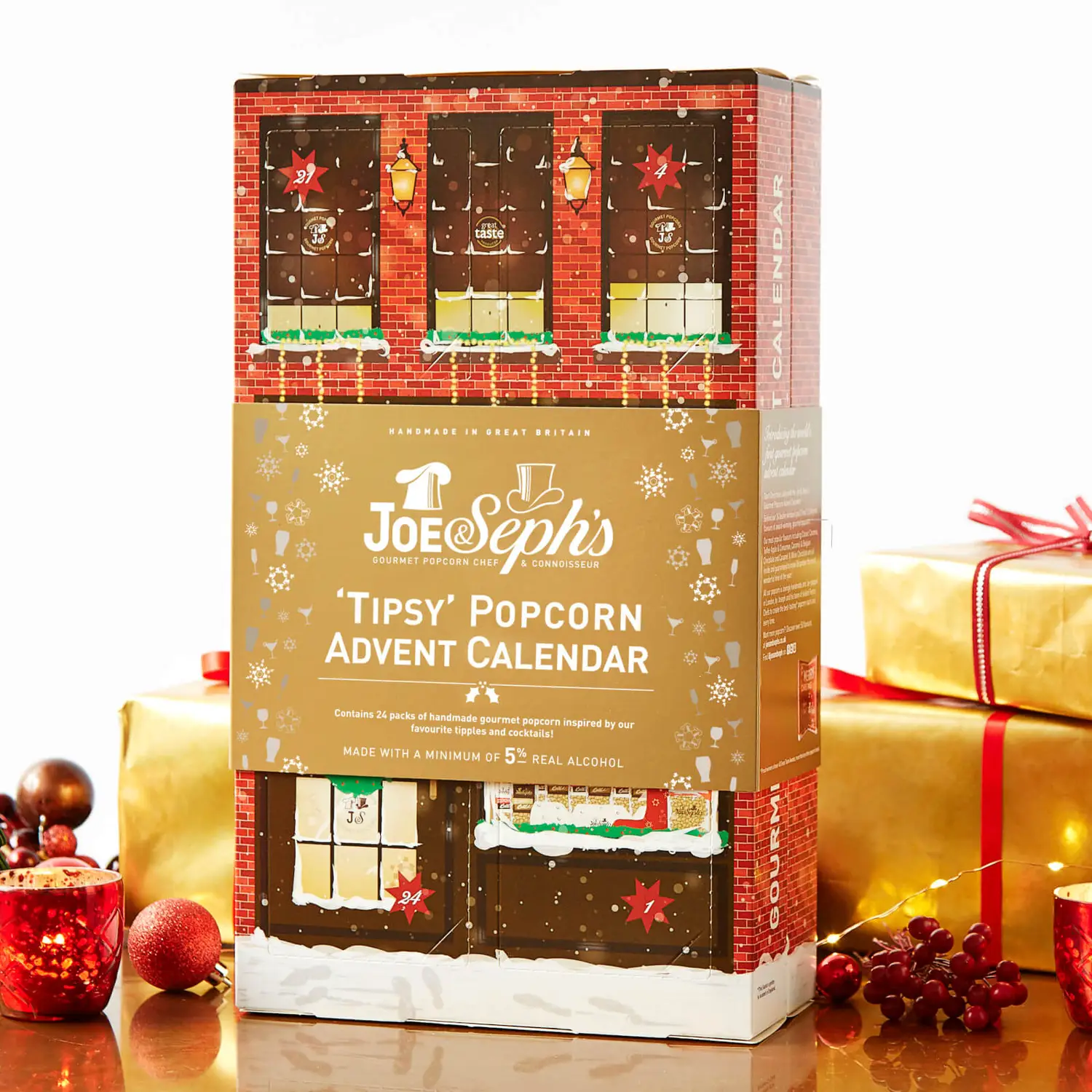 The Joe & Seph's Tipsy Popcorn Advent Calendar 2023 offers 24 gourmet popcorn surprises, including 12 alcohol-infused flavors, created by London-based chefs. Ideal for adventurous adults seeking unique taste experiences..