Cheese Advent CAlendar 2023
Overview – The best cheese advent calendars 2023
Here is our list of the most exquisite cheese calendars 2023. The calendars of previous years are listed below.
Ilchester Cheese Advent Calendar 2020 containing 24 individually wrapped cheese.
The first cheese advenr calendar in the world! Surprise your family or friends with unusual Christmas present.
You could get the calendar for via amazon.co.uk , but it's not more available.
Curious what's inside? Click here: spoiler
Contents:
Mini Cheeses & Cheesy Jokes
Jarlsberg
Applewood
Mexicana
Ilchester Cheddar Cheese
Ilchester Red Leicester Cheese
Ilchester Double Gloucester Cheese
Ilchester Wensleydale Cheese with Cranberries
Ilchester Wensleydale Cheese and Gingerbread
The cheese advent calendar offers a good selection of decent-sized delicious cheeses containing 24 mini cheese truckles (24 x 40g) in 8 unique flavours. A brilliant gift for all cheese lovers. All cheeses are individually wrapped in colourful wax.
You could get the calendar for £ 34,99 via thefoodmarket.com . Unfortunately this calendar is sold out.
Curious what's inside? Click here: spoiler
Contents:
24 mini cheese truckles (24 x 40g) across 8 unique flavours:
Christmas Pudding (Limited Edition!) 40g: Mixed fruits, brandy, and a hint of cinnamon create an unforgettable experience and taste!
Sunday Roast (Limited Edition!) 40g: It doesn't matter what day it is, enjoy a Sunday roast whenever you want with this cheese!
Orange & Whisky 40g: Tasty and zingy orange-flavour cheese with a splash of whiskey.
Margherita Pizza 40g: Everybody loves lots of cheese on their pizza, so why not try a cheese that tastes just like it?!
Caramelized Red Onion 40g: Lovely creamy cheese with a delicious caramelized red onion chutney running through it.
'Black as Coal' Edible Charcoal 40g: Our most unusual but popular cheddar infused with edible charcoal, unique addition to any cheeseboard.
Traditional Apple Smoked 40g: Naturally smoked over applewood to give it a lighter, sweet flavour.
Vintage 40g: Vintage three year aged cheddar with crunchy salt crystals.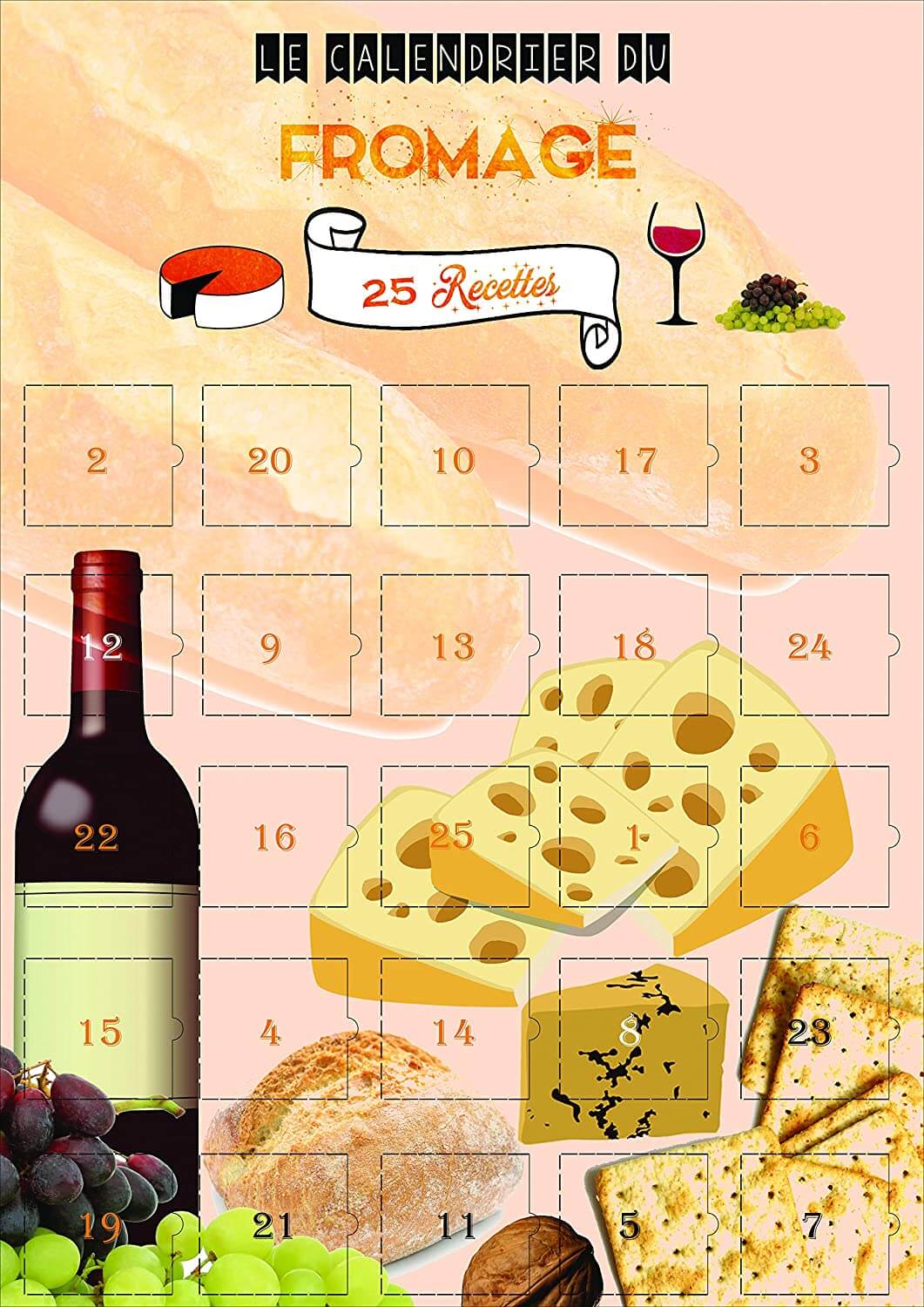 In this special Gourmet advent calendar you will find 25 cheese vignettes – simple and succulent cooking recipes, all calendar images and texts are in French.
Curious what's inside? Click here: spoiler
Contents:
25 cheese recipes in French