Jo Malone Advent CAlendar 2021
The best Jo Malone advent calendars
Here you will find all current information about the latest Jo Malone beauty advent calendars 2021. Calendars of previous years are listed below.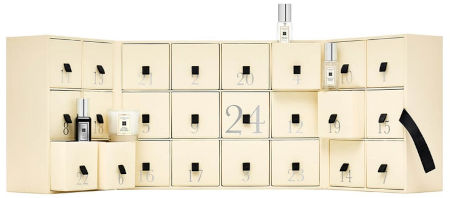 Jo Malone London Advent Calendar with 24 amazing scents.
Perfect gift for friends or loved ones. A set of luxury perfumes is exactly what will bring a good mood during the Christmas Eve.
The calendar is currently out of stock.
Curious what's inside? Click here: spoiler
Contents:
1. Pine & Eucalyptus Mini Candle 35g & Storytelling booklet
2. Honeysuckle & Davana Cologne 9ml
3. Wild Bluebell Body & Hand Wash 30ml
4. Wood Sage & Sea Salt Cologne 9ml
5. Myrrh & Tonka Cologne Intense 9ml
6. Peony & Blush Suede Mini Candle 35g
7. Orange Blossom Cologne 9ml
8. Dark Amber & Ginger Lily Cologne Intense 9ml
9. Poppy & Barley Cologne 9ml
10. Blackberry & Bay Body Crème 50ml
11. Velvet Rose & Oud Cologne Intense 9ml
12. Wild Bluebell Cologne 9ml
13. Red Roses Body & Hand Wash 15ml
14. Oud & Bergamot Cologne Intense 9ml
15. Green Tomato Leaf Mini Candle 35g
16. Lime Basil & Mandarin Cologne 9ml
17. Tuberose Angelica Cologne Intense 9ml
18. Lime Basil & Mandarin Hand Cream 15ml
19. English Pear & Freesia Cologne 9ml
20. Sweet Almond & Macaroon Mini Candle 35g
21. Blackberry & Bay Cologne 9ml
22. Vetiver & Golden Vanilla Cologne Intense 9ml
23. Peony & Blush Suede Cologne 9ml
24. English Pear & Freesia Mini Soap 50g