Acqua di Parma Fragrance Beauty Advent Calendar
The sunny yellow advent calendar from Acqua di Parma is packed with 25 fresh scents. There are popular perfumes such as the Colonia Eau de Cologne and Blu Mediterraneo Mirto di Panarea, as well as body care essentials like the Rosa Nobile Body Cream and Arancia di Capri Shower Gel.
You could get the calendar for £ 400,00 harrods.com , but it's currently out of stock.
Curious what's inside? Click here: spoiler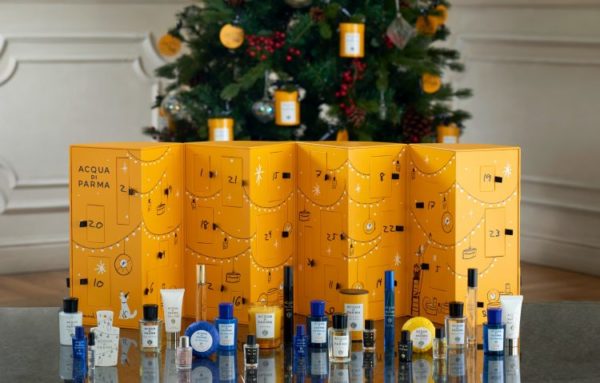 Mirto di Panarea Fragrance
Colonia Fragrance 20ml
Colonia Fragrance Mini 5ml
Rosa Nobile Body Cream 20ml
Magnolia Nobile Hair Mist 7ml
Signatures of the Sun collection fragrances: Osmanthus, Yuzu and Quercia
A small ceramic pot, with the original pattern of the collection, to which scent can be added and to decorate the home
Colonia Sofistic 1.5ml
Signature Oudminiature 5ml
Peonia Nobile Mini 5ml
Arancia di Capri Shower Gel 40ml
Colonia Body Lotion 40ml
Cipresso Mini 5ml
Signature Camelia Mini 5ml
Colonia Bath Salts 50 gr
Arancia di Capri Body Lotion 40ml
Colonia shampoo 40ml
Arancia di Capri Soap 50g
Peonia Nobile Body Cream 20g
Arancia di Capri Minia 5ml
Colonia Shower Gel 40ml
Colonia Soap 50g
Arancia di Capri Shampoo 40ml
70g Notte di Stelle Candle