Chit Chat Beauty Teenager Advent Calendar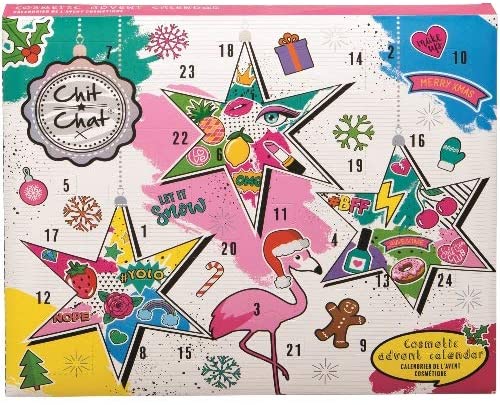 This lovingly designed Chit Chat beauty advent calendar is perfectly suitable for teenage ladies. The calendar contains 24 cosmetics products including nail polish and makeup as well as cute nail & hair accessories.
You could get the calendar for amazon.co.uk* , but it's currently unavailable.
Curious what's inside? Click here: spoiler
Contents:
2 x nail polish
2 x 3-coloured eye shadow compacts
2 x lip gloss
1 x lip liner pencil
2 x eyeliner pencil
2 x lip balm
1 x lip gloss tube
1 x lipstick
1 x toe separator
1 x sharpener
1 x nail file
1 x hair clip
1 x hairband
1 nail sticker sheet
1 nail gem sheet
2 x doubled ended foam applicators
2 x powder brushes