Dr. Barbara Sturm Advent Calendar 2020
Dr. Barbara Sturm is internationally known for its molecular skincare products, and it's an absolute favourite of stars. Beauty advent calendar 2020 is packed with the Dr. Barbara Sturm Enzyme Cleanser, Anti-Aging Body Cream, Clarifying Mask & Co. in full, deluxe and sachet sizes.
You could get the calendar for £ 405,00 net-a-porter.com , but it's now sold out for 2020.
Curious what's inside? Click here: spoiler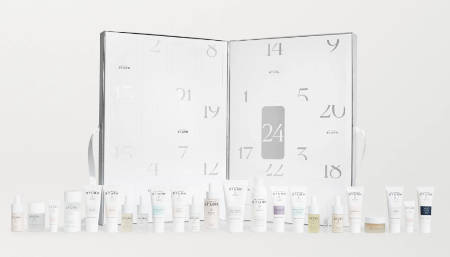 The 'Cleanser' removes dirt, makeup and oil without stripping away moisture. It's formulated with Purslane and Aloe Leaf Juice to help repair damaged cells.
When combined with water, the highly effective 'Enzyme Cleanser' turns into a soft foam that dissolves impurities and gently exfoliates, revealing a radiant-looking complexion.
Formulated with Jojoba Oil and Silk Extract, the 'Facial Scrub' buffs and smooths dry, flaky skin.
The fast-absorbing 'Anti-Aging Body Cream' is infused with extracts of White Almond and Elderberry Blossom to help tone and firm.
Packed with potent Hyaluronic Acid that plumps your complexion, this antioxidant-rich 'Super Anti-Aging Primer' is the perfect base for makeup. It also protects against free radicals and reduces the appearance of pores and wrinkles.
Infused with Omega Lipids and Golden Root, the 'Eye Cream' creates a lifting, firming effect, helping to reduce dark circles and puffiness.
The soothing 'Face Cream' contains antioxidant-rich Purslane to help skin appear visibly brighter, even without makeup.
The intensely hydrating 'Face Cream Rich' penetrates quickly to stimulate natural collagen production, leaving you with a glowing, rejuvenated complexion.
Perfect for use in warmer climates, the Vitamin E-rich 'Face Cream Light' absorbs almost instantly, delivering moisture to your skin's deepest layers.
The 'Clarifying Face Cream' targets blemishes on more mature skin.
it's blended with Balloon Vine, Viper's Bugloss and Sunflower to help restore balance.
Intensely moisturizing, the 'Face Mask' is enriched with nourishing Aloe Vera, Vitamin E and Chamomile to soothe and calm.
The 'Clarifying Mask' contains Kaolin Clay and Zinc, which actively target breakouts.
it's an ideal weekend treatment for blemish-prone skin.
The 'Hyaluronic Ampoule' and 'Hyaluronic Serum' work in tandem to intensively moisturize and refresh skin, instantly reducing the appearance of fine lines and wrinkles.
The 'Calming Serum' is formulated with Cardiospermum, Echium and Sunflower to help soothe and nourish irritated complexions.
A must for promoting cell regeneration, the 'Super Anti-Aging Serum' is infused with potent antioxidants that create a barrier against free radicals and environmental stressors.
The highly concentrated 'Brightening Serum' is enriched with energizing Ginseng Extract, as well as Cress Sprout Extract to help fade hyperpigmentation.
The moisturizing 'Glow Drops' are packed with anti-ageing Wild Rose Extract and Purslane for a more radiant, youthful-looking complexion.
The 'Anti-Pollution Drops' shield against environmental stressors, while Marine Microbe Extracts help reverse the effects of premature ageing caused by pollution.
Developed to nourish dry, cracked pouts, the 'Lip Balm' is enriched with moisturizing Shea Butter, Avocado and Coconut Oil.
Ideal for the gents in your life, the brand's 'Face Cream Men' protects against damaging free radicals and accelerates the healing time of micro-cuts sustained while shaving.
The 'Balancing Toner' soothes irritated skin and is blended with Hyaluronic Acid to deliver gentle moisture.