Dr. Vranjes Firenze Advent Calendar 2021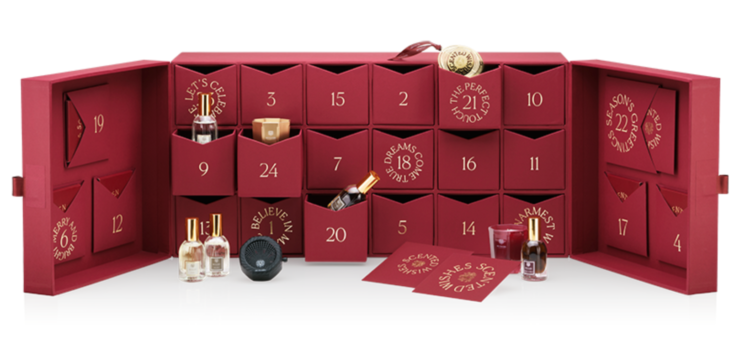 The Dr. Vranjes Firenze offers a 24-day advent calendar that contains various scented perfumes, candles and sprays from top brands. Placed in the elegantly designed red box, this luxurious set is there to please everyone with its aromas, enchanting gold tree decorations and a greeting card!  
Content:
6 x 25 ml spray fragnances: Rosso Nobile, Milano, Ginger Lime, Ambra, Aria and Oud Nobile;
Carparfum (Carbon Chrome Finish);
4 x scented Carparfum Refills (Rosso Nobile, Ginger Lime, Oud Nobile and Peonia Black Jasmine);
4 x scented 80gr candles: Ambra with an onyx vase, Ginger Lime with a pearl vase, Rosso Nobile with a gold vase and a Melograno with a tourmaline vase;
8 original "Stella Di Firenze" tree decorations in gilded metal;
Personalized greeting card.