Giorgio Armani Advent Calendar 2021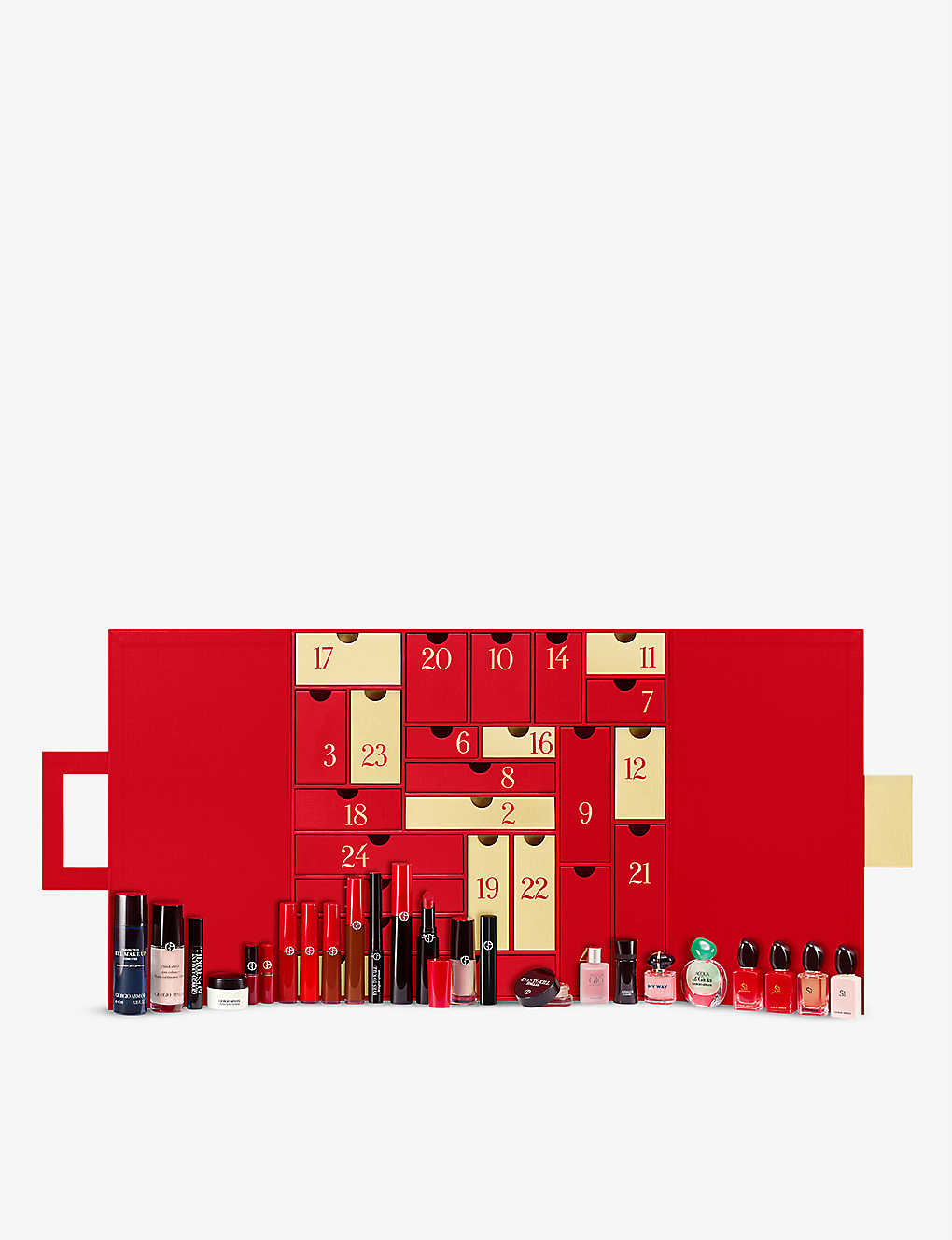 This red and golden coloured exclusive advent calendar from Giorgio Armani is filled with makeup, skincare and bodycare products. Behind each 24 doors of the calendar, you'll find lipsticks, mascara and perfumes from well-known producers.
Content:
Lip Maestro Liquid lipstick 6.5ml in shade #405;
Lip Power lipstick 3.1g in shade #400;
Eyes to Kill Stellar eye shadow 4g in shade #2;
Eye tint silk 3.9ml in shade #8;
Eyes to Kill Designer eyeliner 1.4ml in shade #1;
Eccentrico mascara 10ml;
Black Fluid sheer highlighter 18ml in shade #2;
Lip Maestro liquid lipstick 3.5ml in shades #400 #401 #405;
Eyes To Kill Midi mascara 4.8ml;
Black Perfection Eye make-up remover 40ml;
My Way eau de parfum 7ml;
Si Classic eau de parfum 7ml;
Si Passione eau de parfum 7ml;
Si Passione Intense 7ml;
Si Fiori eau de toilette 7ml;
Armani Code eau de toillete 4ml;
Acqua Di Gioia eau de parfum 5ml;
Aqua Di Gio eau de toilette 5ml;
Eyes To Kill Classico mascara 2ml;
Rouge D'Armani lip 1.4g in shade #400;
Lip Maestro 1.5ml in shade #400;
Crema Nera eye cream 5g.