NIVEA Ski Lodge Advent Calendar 2021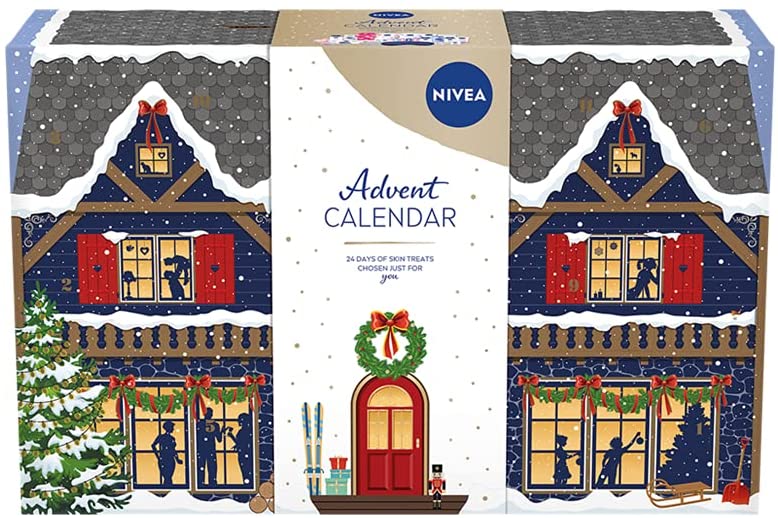 The Nivea Ski Lodge Advent Calendar surprises you with 24 skincare gifts, including lip balm, hand cream, a face mask, shower cream, make-up remover, and deodorant. Special edition for real winter lovers with different beauty items each day to add to their collection. Design of packaging and presents inside – everything is made to enjoy the coldest season of the year.
Content:
NIVEA Rich Moisture Soft Shower Cream x2;
NIVEA Daily Essentials Refreshing Cleansing Wipes For Normal Skin;
NIVEA Daily Essentials Soothing Moisturising Day Cream SPF15 24H Moisture + Soothe Sensitive Skin;
NIVEA MicellAIR Skin Breathe Micellar Water 3-in-1 Make-up Remover Sensitive Skin;
NIVEA Aloe Vera Soothing Care Hand Cream;
NIVEA Soft Moisturising Cream;
NIVEA Good Morning Fresh Skin Refreshing Face Mask Normal Skin;
NIVEA Bye Bye Dry Skin Nourishing Mask;
NIVEA Pearl & Beauty Roll-on Antiperspirant;
NIVEA Original Care Caring Lip Balm;
NIVEA Hydro Care Caring Lip Balm;
NIVEA Pearly Shine Caring Lip Balm;
NIVEA Aloe Vera Caring Lip Scrub;
NIVEA Soft Moisturising Cream;
Shower Puff.