Shiseido Exclusive Advent Calendar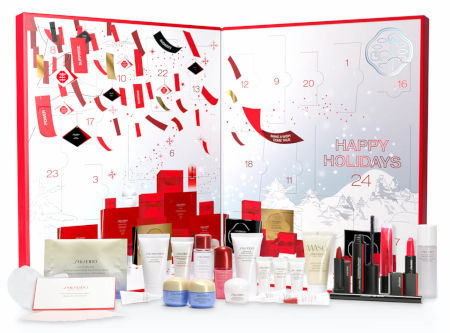 Behind every door of the first Shiseido Advent calendar hide 24 beauty surprises worth £322.00 from the care & makeup range of the Japanese beauty brand, including the Kajal InkArtist and the Vital Perfection Uplifting and Firming Cream. The men can also enjoy a little something behind the doors with the Shiseido Men Cleansing Foam. 
The calendar has been sold out.
Curious what's inside? Click here: spoiler
Contents:
Clarifying Cleansing Foam 15ml
Oil Control Blotting paper 10 Sheets
Eye & Lip Makeup Remover 30ml
Treatment Softener 30 ml
Ultimune Power Infusing Concentrate 10ml
WASO Soft+Cushy Polisher 30ml
Benefiance Wrinkle Smoothing Eye Cream 2ml
Vital Perfection Uplifting and Firming Cream 15ml
Vital Perfection Overnight Firming Treatment 15ml
Ultimune Power Infusing Eye Concentrate 3ml
Vital Perfection Uplifting and Firming Express Eye Mask 1 St
Vital Perfection Uplifting and Firming Eye Cream 3ml
Global Body Super Slimming Reducer 30ml
Benefiance Wrinkle Smoothing Contour Serum 5ml
Benefiance Overnight Wrinkle Resisting Cream 5ml
Shiseido Men Total Revitalizer Cream 5ml
Shiseido Men Cleansing Foam 30ml
ModernMatte Powder Lipstick 513 2,5 g
ModernMatte Powder Lipstick 516 2,5 g
Benefiance Wrinkle Smoothing Cream 5 ml
Essential Energy Moisturizing Cream 10ml
ControlledChaos MascaraInk 1 Black Pulse 8g
Shimmer GelGloss 7 Shin-Ku Red 9ml
Kajal InkArtist 9 Nippon Noir