The Body Shop Deluxe Advent Calendar 2020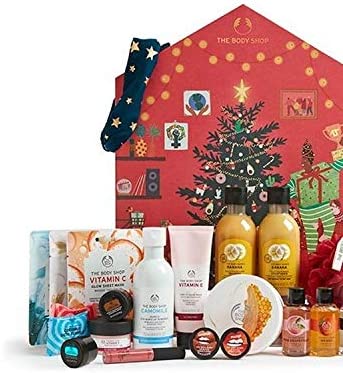 This newest Deluxe advent calendar from The Body Shop impresses with its chic, eye-catching design. Instead of doors, you will find 24 cardboard boxes in different sizes hiding high-quality bath & body essentials, skincare products as well as fabulous accessories.
The calendar is currently unavailable.
Curious what's inside? Click here: spoiler
Contents:
1. Coconut hand cream, 30 ml
2. Vitamin C Glow Sheet Mask, 18 ml
3. Bath lily made from recycled plastic
4. Layers of Fun Nail File
5. Coconut lip butter, 10 ml
5. Mango shower gel, 60 ml
6. Banana Truly Nourishing Shampoo, 60 ml
7. Himalayan Charc Purifying Shine Mask, 15 ml
8. Shea hand cream, 30 ml
9. Pink Grapefruit Shower Gel, 60 ml
10. Coconut Fragranced Bath Bomb, 28 g
11. Camomile Gentle Eye Makeup Remover, 250ml
12. Vitamin E Moisturiser, 50 ml
13. Nicaraguan Coffee Intense Awakening Mask, 15 ml
14. Banana Truly Nourishing Balm, 250 ml
15. Strawberry Body Butter, 50 ml
16. Nairobi Camellia Matte Lip Balm, 8 ml
17. Vitamin E Quench Sheet Mask, 18 ml
18. British Rose Shower Gel, 60 ml
19. Mango lip butter, 10 ml
20. Pink Grapefruit Fragranced Bath Bomb, 28 g
21. Vitamin E Gentle Face Wash Gel, 125 ml
22. Star headband
23. Seaweed Balance Sheet Mask, 18ml
24. Almond Milk & Honey Soothing & Restoring Body Butter, 200 ml
+ Filabe Basic Moisturising Facial Care Wipes Pack of 7