The Body Shop Make It Real Together Advent Calendar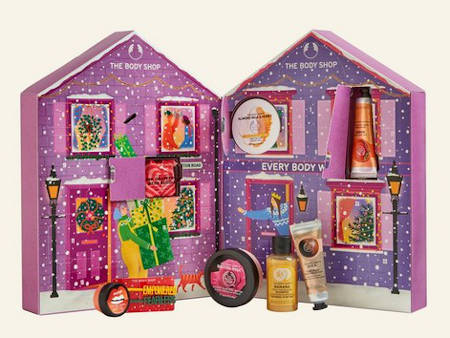 The "Make It Real Together" advent calendar from The Body Shop surprises you with 24 care products for body, lips & hair, featuring bath bubbles & bombs, body butter, shampoo and hair conditioner, hand cream, lip butter & Co. The products are very nicely combined in a fruity fragrance range of The Body Shop.
You could get the calendar for £ 50,00 thebodyshop.com* , but it's been already sold out.
Curious what's inside? Click here: spoiler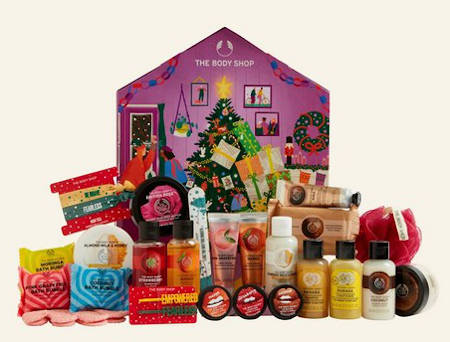 Mango hand cream, 30ml
Fragrant Moringa bath bubble, 28g
Almond Milk & Honey Soothing & Caring shower cream, 60ml
Hair ties
Shea butter soap, 100g
Strawberry lip butter, 10ml
Mini bath lily made from recycled plastic
British Rose Instant Glow body butter, 50ml
Coconut Exfoliating Cream body peeling, 50ml
Incredibly Nourishing Banana shampoo, 60ml
Shea hand cream, 30ml
Mango shower gel, 60ml
Bath gloves
Strawberry shower gel, 60ml
Pink Grapefruit hand cream, 30ml
Fragrant Coconut bath bubble, 28g
"Layers of Fun" nail file
Pink Grapefruit fragrant bath bomb, 28g
Banana Truly Nourishing balm, 60ml
Coconut lip butter, 10ml
Hair clips
Coconut shower cream, 60ml
Mango lip butter, 10ml
Almond Milk & Honey Soothing & Restoring body butter, 50ml