The White Company Beauty Advent Calendar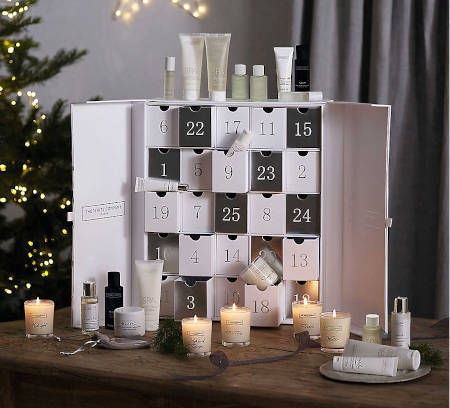 The White Company is a luxury interior label from London. This year the brand's calendar is again filled with high-quality scented candles and care products, including the Gua Sha, mini-sized body care, votives, skincare and a selection of their bestselling scents.
The calendar is now sold out.
Curious what's inside? Click here: spoiler
Fir Tree Votive Candle 75g
Fireside Votive Candle 75g
Winter Votive Candle 75g
Midnight Votive Candle 75g
Pomegranate Votive Candle 75g
Highland Escape Votive Candle 75g
Sleep Pulse Point Oil 10ml
Calm Pulse Point Oil 10ml
Seychelles Lip Balm 15ml
Pomegranate Handbag Hand Cream 30ml
Spa Restore Shampoo 75ml
Spa Restore Conditioner 75ml
Spa Restore Luxury Body Balm 75ml
Lime & Bay Handbag Hand Cream 30ml
Seychelles Shower Gel 50ml
Calm Bath Oil Shot 30ml
Sleep Bath Oil Shot 30ml
Spa Restore Bath Oil Shot 30ml
Spa Restore Body Scrub 75g
Blanc Body Wash 50ml
Blanc Shimmer Body 50ml
Noir Hand Wash 50ml
Noir Hand Lotion 50ml
Seychelles Body Lotion 50ml
Rose Quartz Gua Sha