Wellness Tea Advent Calendar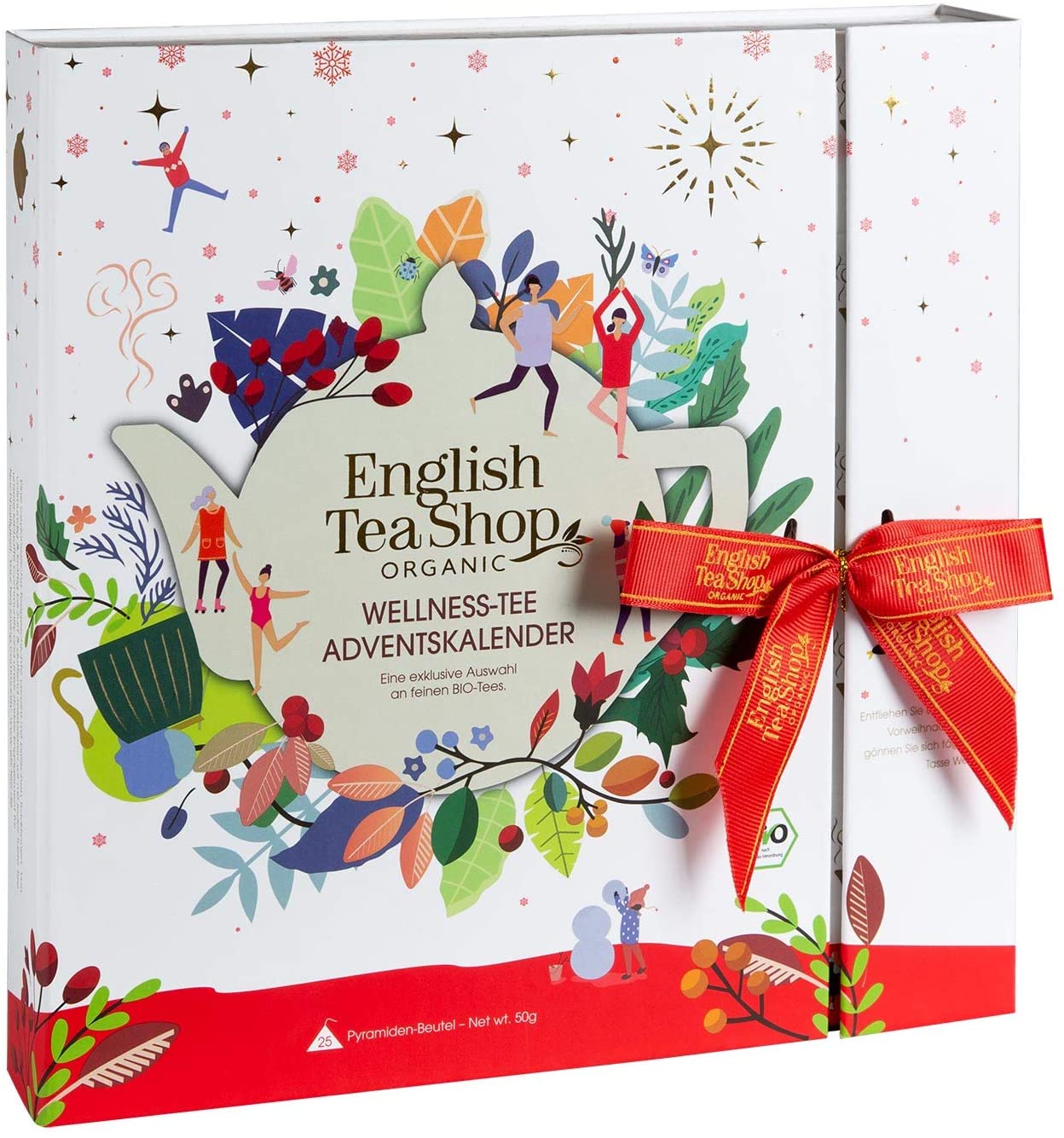 This nicely designed book-shaped calendar by The English Tea Shop offers you an exclusive selection of distinguished organic teas produced by small farms in Sri Lanka. The calendar includes such unique tea creations as Beetroot, Ginger & Curry Leaves, Rooibos, Acai & Pomegranate, Chocolate, Rooibos & Vanilla and many others.
The calendar is currently unavailable.
Curious what's inside? Click here: spoiler
Contents:
Happy Me – Organic lemongrass (34%)
Winter Balance – Organic peppermint leaves (30.5%)
Beautiful Me – Organic chamomile (20.5%)
Cocoa, Cinnamon & Ginger – Organic cinnamon (45%)
Seasonal Siesta – Organic lemongrass (36%)
Super Berries – Organic hibiscus (63%)
Cranberry, Hibiscus & Rosehip – Organic hibiscus (33%)
Chocolate, Rooibos & Vanilla – Organic Rooibos (88.5%) Herbal Tea, Cocoa nibs and Vanilla pods
Energise Me – Organic spearmint (34%)
Calm Me – Organic cinnamon (40%)
Punchy Peppermint – Organic green tea (73.5%)
Intense Chai – Organic cinnamon (34%), organic ginger (19%)
Red Cherry Chai – Organic lapsang souchong black tea (45%)
Apple, Rosehip & Cinnamon – Organic hibiscus (47%)
Pure Me – Organic peppermint (32%)
Shape Me – Organic green tea (54%)
Cinnamon, Moringa & Ginger – Organic cinnamon (61%)
Ceylon Cinnamon – Organic cinnamon (90%)
Rooibos, Acai & Pomegranate – Organic rooibos (59.5%)
Revive Me – Organic white tea (36%)
Youthful Me – Organic hibiscus (40%)
Comfort Me – Organic chamomile (33%)
Beetroot, Ginger & Curry Leaves – Organic beetroot (41%)
Chamomile Lavender – Organic chamomile (80%)