Yves Saint Laurent Beauty Advent Calendar 2020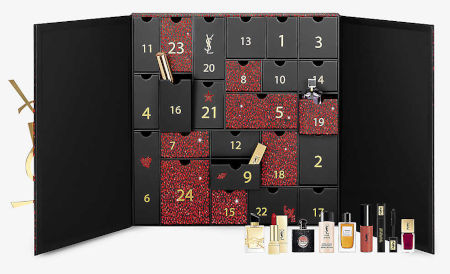 The newest Yves Saint Laurent advent calendar opens 24 doors filled with travel & full-sized goodies, including the iconic Touché Eclat, Black Opium eau de parfum and a few Rouge Pur Couture lipsticks. It's a perfect gift for fans of luxury cosmetics. However, not a recommendation to buy for the price, as there is unfortunately little variety in colours and the price-performance ratio leaves much to be desired.
The calendar is now out of stock.
Curious what's inside? Click here: spoiler
Contents:
Black Opium eau de parfum 7.5ml
Mon Paris eau de parfum 7.5ml
Libre eau de parfum 7.5ml
Opium eau de toilette 7.5ml
Rouge Pur Couture Lipstick 01 1.3g
Rouge Pur Couture Lipstick 09 1.3g
Rouge Pur Couture Lipstick 13 1.3g
Rouge Pur Couture Lipstick 19 1.3g
Rouge Pur Couture Lipstick 52 1.3g
Vernis a Levres Lipstick 09 1.3g
Tatouage Couture Lipstick 01 1.3g
Tatouage Couture Velvet Cream Lipstick 216 1.3g
Mascara Volume Effet Faux Cils 01 2ml
Mascara Volume Effet Faux Cils The Curler 2ml
Le Vestiaire de Parfums Tuxedo 7.5ml
Dessin du Regard Eyeliner 0.8g
Top Secrets Instant Moisture Glow 5ml
Top Secrets Expert Make-up Remover Eyes and Lips 8ml
Touche Eclat Blur Primer 10ml
Pure Shots Night Reboot Serum 7ml
Pure Shots Hydra Bounce Essence-in-Lotion 10ml
Touche Eclat Illuminating Pen 01 2.5ml
La Laque Couture Nail Varnish 08 10ml
Black Kabuki Small Make-up Brush