Acqua Di Parma Advent CAlendar 2023
Overview – Acqua Di Parma Advent Calendars 2023
Acqua Di Parma, hailing from Italy, is renowned for its timeless elegance and craftsmanship. The brand is celebrated for its signature fragrances and grooming essentials. Introducing the Acqua Di Parma Advent Calendar 2023 – a curated journey through their iconic scents and luxurious grooming staples, an Italian tradition in the making.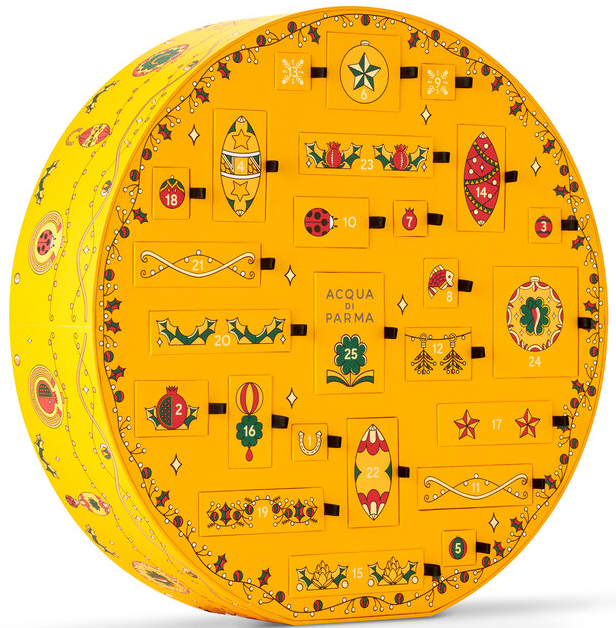 The ACQUA DI PARMA Holiday Advent Calendar 2023 offers a collection of candles, diffusers, and home accessories that aim to provide a unique sensory experience, with fragrances reminiscent of the sun-kissed Riviera and sweet floral aromas.
ACQUA DI PARMA – Holiday Advent Calendar 2023 – Content
Unbox ACQUA DI PARMA's Holiday Advent Calendar 2023 featuring 25 curated pieces, including fragrant candles, diffusers, and home accessories. The set ranges from sun-drenched Rivieras to enchanting floral landscapes.
Colonia Futura eau de cologne 12ml
Colonia c.l.u.b. eau de cologne 12 ml
Colonia essenza eau de cologne 12 ml
Signatures of the Sun Oud eau de parfum 12ml
Signatures of the Sun Quercia eau de parfum 12ml
Signatures of the Sun Sandalo eau de parfum 12ml
Signatures of the Sun Osmanthus eau de parfum 12ml
Signatures of the Sun yuzu eau de parfum 12ml
Signatures of the Sun Lily of the Valley 12ml
Arancia di Capri eau de toilette 12ml
Fico di Amalfi eau de toilette 12ml
Mirto di Panarea eau de toilette 12ml
Colonia eau de cologne 20ml
Signatures of the Sun Yuzu body cream 15ml
Signatures of the Sun Osmanthus body cream 15ml
Colonia shower gel 40ml
Colonia body lotion 40ml
Colonia shampoo 40ml
Colonia conditioner 40ml
Colonia soap 50g
Arancia di Capri shower gel 40ml
Arancia di Capri body lotion 40ml
Arancia di Capri soap 50g
Magia del camino candle 28g
Bosco candle 70g