bareMinerals Advent CAlendar 2023
Overview – bareMinerals Advent Calendars 2023
bareMinerals, known for its natural and mineral-based cosmetics. Originating from the United States, bareMinerals is celebrated for its clean and cruelty-free beauty products. bareMinerals Advent Calendar promises daily delights to enhance your festive look, making it the perfect gift for makeup enthusiasts.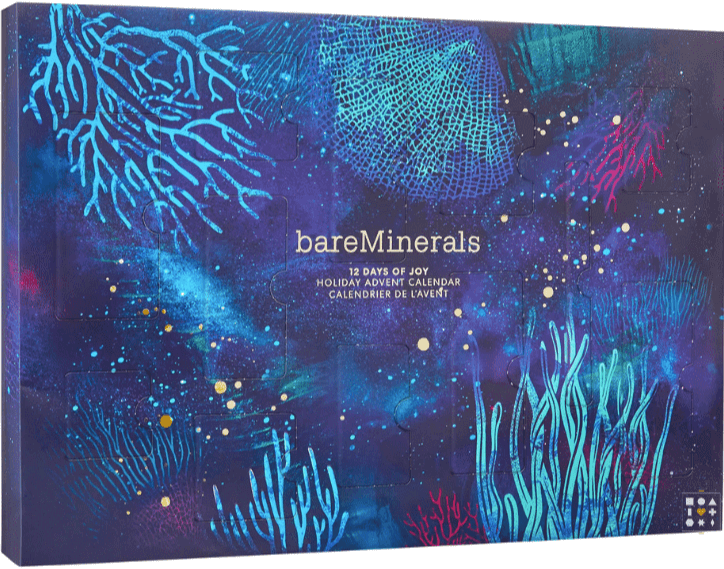 The bareMinerals Holiday Advent Calendar 2023 offers 12 beauty items. The set includes both full-sized and mini versions of products such as liners, blushes, lip balms, serums, creams, powders, bronzers, mascaras, and lipsticks. The products come in a range of shades and volumes.
bareMinerals Holiday Advent Calendar 2023 – Content
Introducing the bareMinerals Advent Calendar 2023: 12 days of surprises with makeup and skincare items in various sizes, promoting healthier skin. Perfect for clean beauty enthusiasts who love daily surprises.
Full-Sized Mineralist Lasting Eyeliner in 'Onyx' 0.35g
Full-Sized Loose Blush in 'Rose Radiance' 0.85g
Full-Sized Loose Eye Colour in 'Queen Phyllis' 0.57g
Full-Sized Mineralist Lip Gloss-Balm in 'Sincerity' 4ml
Mini Skinlongevity Long Life Herb Serum 15ml
Mini Ageless Phyto-Retinol Eye Cream 5g
Mini Ageless 10% Phyto-Retinol Night Concentrate 8ml
Mini Smoothness Bare Haven Moisturiser 15ml
Mini Mineral Veil Loose Setting Powder 2g
Mini All Over Face Colour Loose Bronzer 0.57g
Mini Maximist Phyto-Fiber Volumizing Mascara 5ml
Mini Mineralist Hydra-Smoothing Lipstick in 'Honesty' 1.8g