Benefit Advent CAlendar 2023
Overview – Benefit advent calendars
The Benefit advent calendar is a must-have for beauty lovers, filled with the brand's popular makeup and skincare products. Originating in San Francisco, Benefit is known for its fun and effective beauty solutions with unique packaging.Find out everything you need to know about Benefit advent calendars here.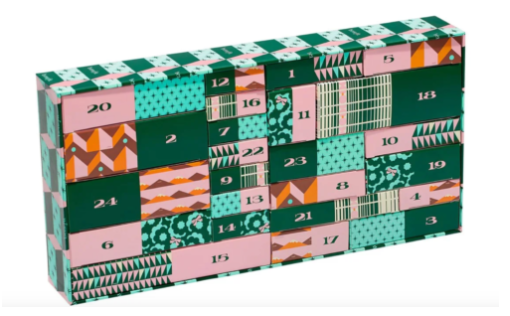 The Benefit All I Want Advent Calendar 2023 contains 24 beauty products to be unveiled daily over a 24-day period. The selection includes both full-sized and deluxe-sized items, covering a range of beauty needs from makeup to skincare. Products included are Hoola Bronzer, Roller Lash Mascara, face primer, blush, brow wax, and a cheek brush, alongside a variety of skincare and makeup miniatures.
All I Want Beauty Advent Calendar 2023 – Content
The Benefit All I Want Advent Calendar 2023 unveils a collection of 24 beauty treasures featuring a mix of full-sized and deluxe items including makeup and skincare. Within this set, you'll find a range of essentials like mascara, face primer, blush, bronzer, brow wax, and cheek brush, alongside an assortment of mini skincare and makeup wonders.
Roller Lash Mascara Full Size
The Professional Face Primer Full Size
Fluff Up Brow Wax Full size
Multi-Tasking Cheek Brush Full Size
The Porefessional Lite Primer
Hoola Matte Bronzer Mini
Willa Blush Mini
Shellie Blush Mini
Terra Blush Mini
Crystah Mini
24hr Brow Setter Fun-Size
The Porefessional Good Cleanup Cleanser Fun Size
The Porefessional Tight N Toned Toner Fun Size
The Porefessional Deep Retreat Clay Mask Fun Size
The Porefessional Supper Setter Fun Size
Benetint Fun Size
Plushtint Fun Size
Splashtint Fun Size
Badgal BANG! Mascara Fun Size
They're Real! Mascara Fun Size
They're Real! Magnet FUn Size
Fan Fest Mascara Fun Size
Gimme Brow+ Brow Gel Shade 3 Fun Size
Precisely My Brow Pencil Shade 4 Fun Size