DIY Scratch Cards
Here you will find instructions for homemade scratch cards, including free downloads for the cards.
It is really not so difficult to make your own scratch cards.
You will need:
Some washing up liquid
A large roll of clear parcel tape
A printer
Paint brush
Ruler
Text or pictures for the scratch cards
If you are looking for good ideas for the scratch cards, we have some templates for you to download for free:
How to make the scratch cards:
Download the free templates
Print off and cut out the templates
Stick a strip of tape over the surface for scratching
Mix the washing up liquid with the the acrylic paint, with a ratio of 1:2 (1 part washing up liquid, 2 parts paint)
Spread the paint mixture over the taped surface of the cards in 2-3 layers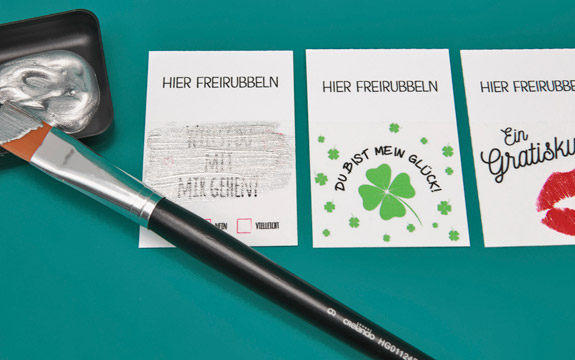 You will need some patience, as the paint colour is not so strong in this mixture. Leave each layer of paint to dry after each coat.
Then your scratch cards are complete!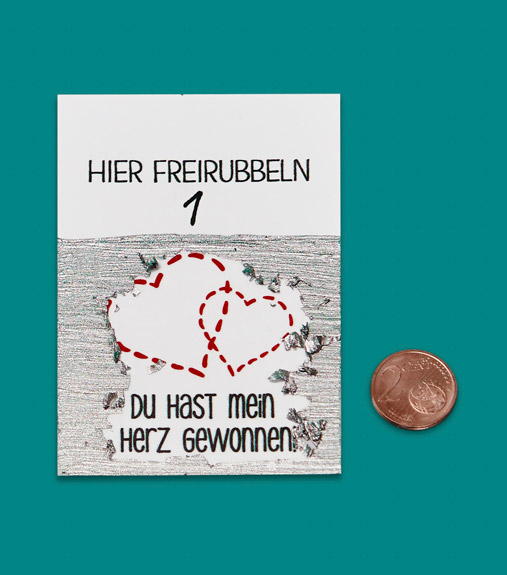 You can create an advent calendar out of 24 scratch cards, which you can design however you like, for example with funny sayings, romantic quotes or with the ingredients for a favourite recipe, which you will prepare for your loved one.
Alternatively, print 24 little photos on the cards, removing one piece of clothing each day until only the underwear is left at the end.
You can hang the 24 advent calendar scratch cards with a string on the wall or put them in a bowl and decorate it.
Have fun with the scratch cards!
Scratch Card Vouchers for the Advent Calendar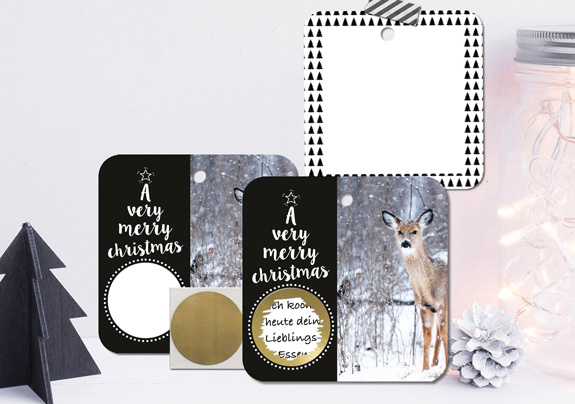 If you do not have so much time, have a look at these pre-made scratch card vouchers. This set consists of 24 cards, in the size 9.8 cm x 9.8 cm with gold scratch surfaces. You only need to write your own ideas for vouchers or messages in the circle and then stick the included scratch sticker over the top. You can hang up the cards, decorate them for Christmas or simply place them in a jar with a ribbon around it.
You can get this calendar on etsy.com.