ELLE Beauty Advent calendar 2023
Overview – ELLE Beauty Advent Calendars
ELLE, a renowned French brand, is synonymous with fashion and lifestyle, curating trends and style from the heart of the fashion world. Known for their elegance, ELLE ventures into the beauty realm, and the ELLE Advent Calendar 2023 promises a month of beauty indulgence with a selection of their chic and curated beauty essentials, making each day leading up to Christmas a celebration of glamour and style.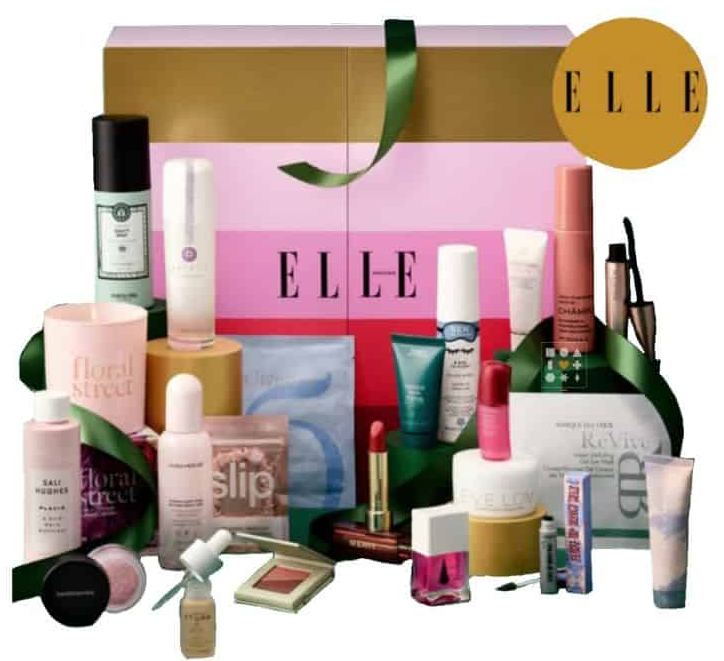 The ELLE Beauty Advent Calendar 2023 contains 25 sought-after beauty items. This limited-edition offering features a striking design and contains premium skincare, makeup, and home products. The total estimated value of the enclosed items is £575.
ELLE 25 Beauty Advent Calendar 2023 – Content
Dive into luxury with the ELLE Advent Calendar 2023, featuring 25 carefully chosen beauty essentials. The calendar presents a mix of skincare, makeup, like cleansers, toners, serums, masks, and more.
TATCHA The Essence 75ml, WORTH £63.00 FULL-SIZE
EVE LOM Cleansing Balm 50ml, WORTH £48.00 FULL-SIZE
DR. BARBARA STURM The Good C Vitamin C Serum 10ml, WORTH £45.00
FLORAL STREET 'Scents vary: Citrus Rose, Rose Provence, Spring Bouquet OR Sandal Dark Candle 200g, WORTH £38.00 FULL-SIZE
LAURA MERCIER Translucent Pure Setting Spray 16 Hr 100ml, WORTH £34.50 FULL-SIZE
MARIA NILA Salty Mist 150ml, WORTH £29.50 FULL-SIZE
MERIT The Special Mask 10mlSignature Lip Lightweight lipstick in Cabo Red, WORTH £28.00 FULL SIZE
CHĀMPO Leave-in perfecting cream 75ml, WORTH £28.00 FULL-SIZE
BARE MINERALS Loose Powder Blush in shade Rose Radiance 0.86g, WORTH £24.00 FULL-SIZE
RÉVIVE Masque des Yeux Instant 1 sachet, WORTH £23.00 FULL-SIZE
SHISEIDO Ultimune Power-Infusing Concentrate 10ml, WORTH £23.00
AVEDA Botanical Repair Overnight Serum 30ml, WORTH £21.00
REN & Now to Sleep 75ml, WORTH £20.00 FULL-SIZE
OLIVANNA Hydro Glow Marine Algae & Hyaluronic Acid Bio-Cellulose Face Mask 1 sachet, WORTH £18.00 FULL-SIZE
SCULPTED BY AIMEE My Mascara 12ml, WORTH £17.99 FULL-SIZE
EYEKO Eyeko Black Magic: Brown Cocoa Edit Liquid Eyeliner 2g, WORTH £16.00 FULL-SIZE
SALI HUGHES X REVOLUTION Placid 5-Acid Daily Exfoliant 150ml, WORTH £15.00 FULL-SIZE
NAILS INC Glow Hyaluronic Base Coat 14ml, WORTH £15.00 FULL-SIZE
BOBBI BROWN Extra Lip Tint in Bare Pink 0.7g, WORTH £12.50
TWEEZERMAN Micro Tweezers, WORTH £12.00
SLIP Rose gold skinny scrunchie, WORTH £9.00 FULL-SIZE
CLÉ DE PEAU Clarifying Cleansing Foam 20ml, WORTH £8.00
BENEFIT Benefit Fluff Up Brow Wax Mini 3ml, WORTH £6.13