Bonne Maman Advent CAlendar 2023
Overview – Bonne Maman Advent Calendars – TOP list
The Bonne Maman Advent Calendar, hailing from France, is a culinary delight renowned for its delectable fruit preserves and spreads. Famous for its exquisite fruit conserves, it offers a daily treat of gourmet flavors, making December a flavorful and festive journey for food enthusiasts. Have a flavorful season with Bonne Maman Advent Calendar 2023 here.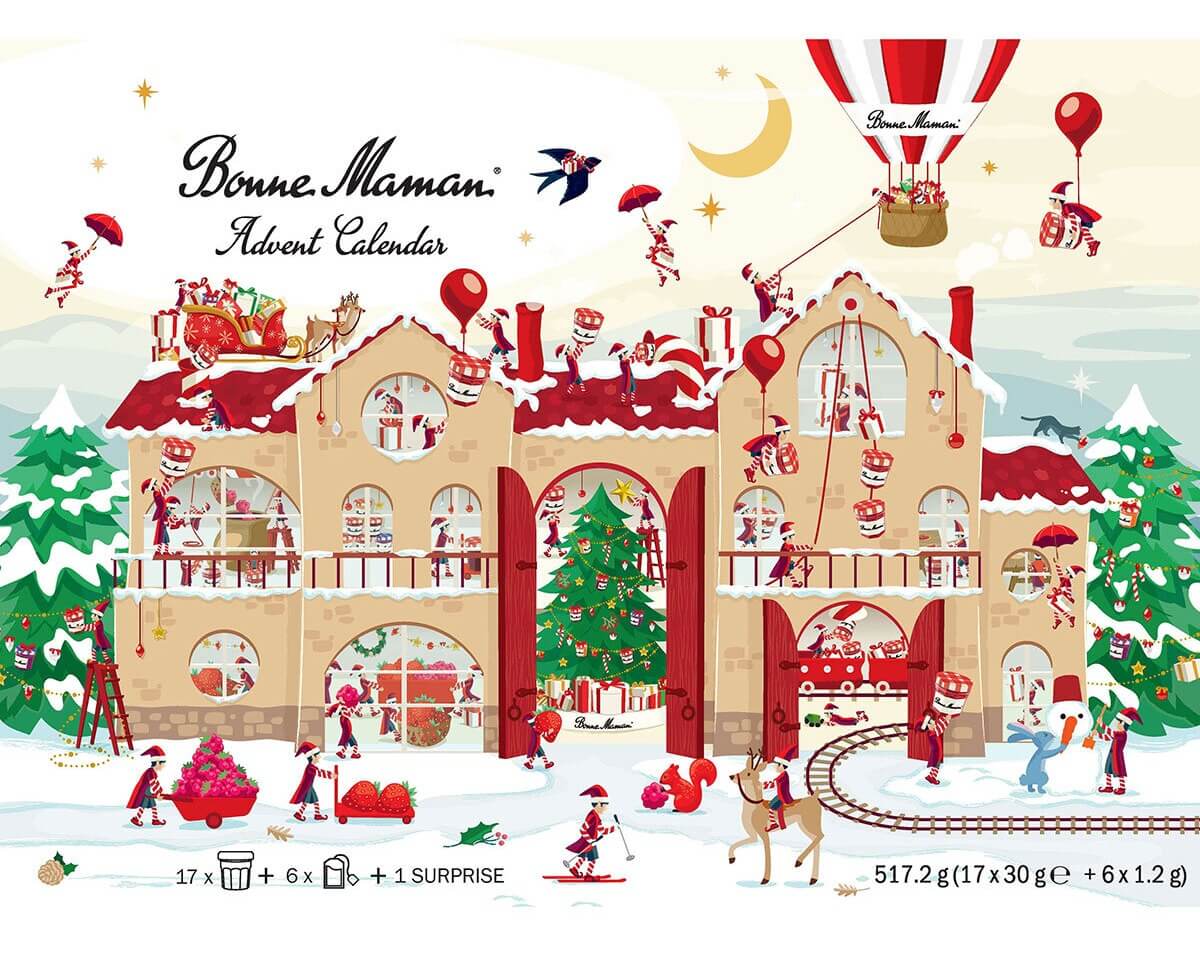 The Bonne Maman Advent Calendar contains 23 items. Included are 17 mini jars of jams, spreads, and preserves, along with 6 herbal teas. Each jar features a distinct fruit variety or taste combination. These have a high proportion of ripe fruit, suitable for baking. All contents are vegetarian-friendly.
Bonne Maman 17 x 30g Advent Calendar – Content
Indulge in 23 flavorful surprises with the 2023 Bonne Maman Advent Calendar. Explore mini jams, spreads, preserves, and herbal teas made from premium fruits. Perfect for culinary adventures and vegetarian-friendly.
Apricot and Banana Spread, 30g
Apricot with Lavender Spread, 30g
Blackcurrant Extra Jelly, 30g
Cherry with Pink Peppercorn Spread, 30g
Chestnut and Orange with Spices Spread, 30g
Fig with Cardamom Spread, 30g
Mara des Bois Strawberry Spread, 30g
Milk Caramel with Cinnamon Spread, 30g
Mirabelle Plum with Spices Spread, 30g
Peach with Jasmine Flower Spread, 30g
Pineapple and Ginger Spread, 30g
Quince with Chunks Extra Jam, 30g
Raspberry with Dark Chocolate Spread, 30g
Strawberry and Guava Spread, 30g
Sweet Orange, Guava and Lime Spread, 30g
Sweet Orange, Mandarin and Passion Fruit Spread, 30g
White Nectarine and Peach with Lemon Verbena Spread, 30g
After Dinner Herbal Tea, 1.2g
Christmas Blend Herbal Tea, 1.2g
Morning Blend Herbal Tea, 1.2g
Quiet Moment Herbal Tea, 1.2g
Silent Night Herbal Tea, 1.2g
Soothing Herbal Tea, 1.2g