kinder Advent CAlendar 2023
Get ready for the Kinder Advent Calendar
Created by a brand loved for their delicious Kinder chocolate treats. Hailing from the heart of Italy, this calendar offers daily surprises filled with Kinder's iconic confections, turning your holiday countdown into a sweet and joyful journey through the world of Kinder chocolates. Celebrate the magic of the holiday season with the Kinder Advent Calendar.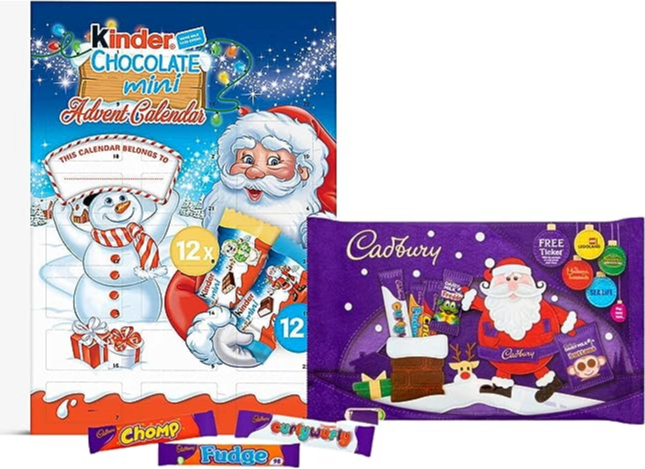 The Kinder & Dairy Milk Chocolate Advent Calendar 2023 consists of a mix of Kinder chocolates and Dairy Milk selections, providing a countdown to Christmas. This singular order includes 2 sets and weighs 0.36 kilograms.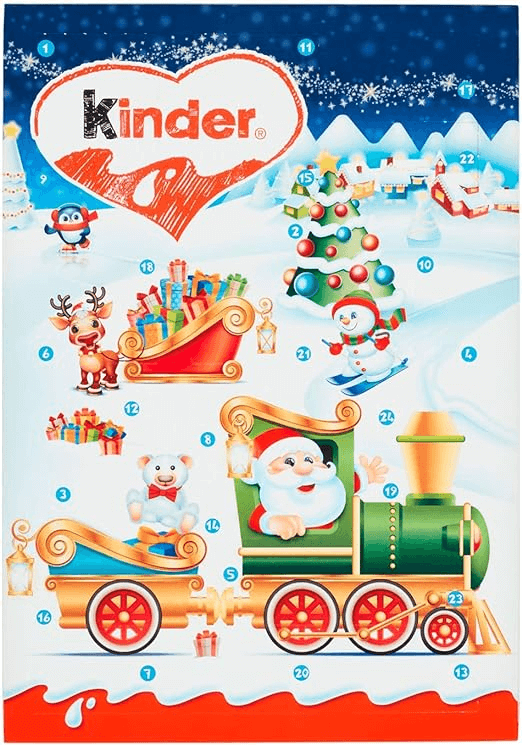 The Kinder Mini Santa Advent Calendar is a 60-gram collection featuring 24 Kinder chocolate minis. Catering to the tastes of children, each mini chocolate combines a milky filling with a chocolate casing. The chocolates are free from artificial preservatives and colours. Contains soya.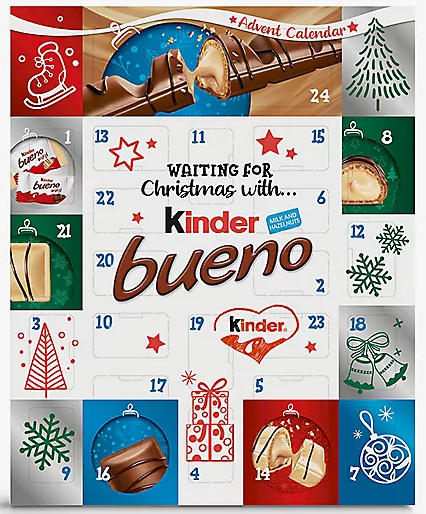 The Kinder Bueno Advent Calendar contains 24 mini Bueno bars, with a full-sized bar on December 24th. It's perfect for vegetarians but not suitable for those with allergies due to allergens like nuts, gluten, soya, and milk.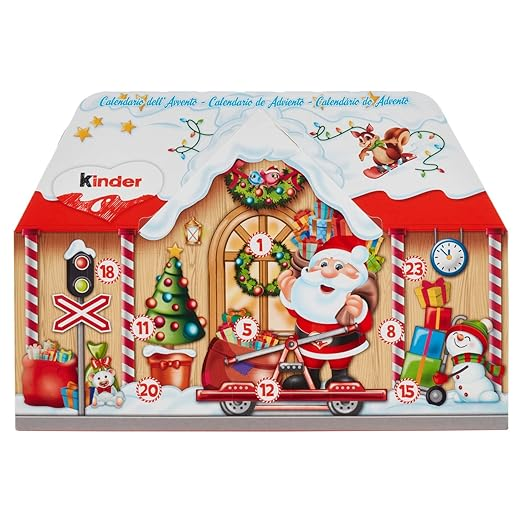 The Ferrero – Kinder Advent Calendar contains 24 compartments, each housing a mini chocolate bar. Made since 1968, these chocolates are not overly sweet. Its three-dimensional design depicts a festive picture of Santa Claus and his elves in a toy workshop.
Ferrero – Kinder Advent Calendar – Content
Introducing the Ferrero Kinder Advent Calendar contains 24 compartments of milky chocolate treats for children's holiday joy, with surprises in every compartment.
2x Kinder Surprise
6x Kinder Mini Eggs Hazelnut
6x Kinder Schoko-Bons
2x Kinder Figure
8x Kinder Chocolate