Le Mini Macaron Advent CAlendar 2023
Overview – Le Mini Macaron Advent Calendars 2023
Hailing from the United States, Le Mini Macaron has gained fame for its innovative at-home gel manicure kits, offering a convenient and stylish solution for nail care enthusiasts. Elevate your festive season with the Le Mini Macaron Advent Calendar 2023, a delightful journey featuring an array of chic nail colors, curated to bring joy and a touch of glamour to each day leading up to Christmas.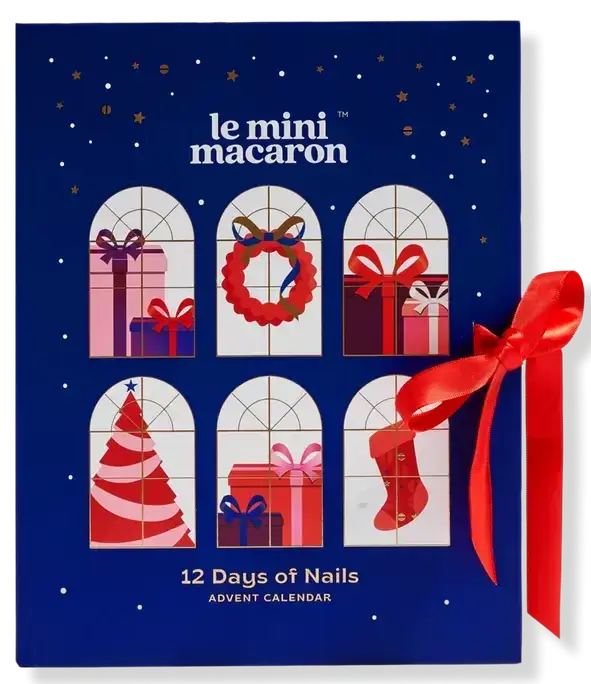 The Le Mini Macaron Advent Calendar contains various nail care items. This includes a White Pearl LED lamp, various nail polishes, gel polish, gel top coat, gel removal wraps, nail tools, accessories, and stickers.
Le Mini Macaron 12 Days of Nails Advent Calendar – Content
Introducing the Le Mini Macaron Advent Calendar – your one-stop box containing multiple premium nail care products. Prepare yourself for an exciting countdown, revealing items like the LED Lamp, diverse nail polish shades, essential nail tools, and playful stickers.
1 x Le Mini Macaron White Pearl LED lamp with USB cord
1 x Le Mini Macaron Mini Silver Glow Gel Polish: 4g
1 x Le Mini Macaron Mini Rouge Shimmer Gel Polish: 4g
1 x Le Mini Macaron Mini Rose Antique Gel Polish: 4g
1 x Le Mini Macaron Mini Peony Desire Gel Polish: 4g
1 x Le Mini Macaron Mini Wintergreen Gel Polish: 4g
1 x Le Mini Macaron Mini Sapphire Bleu Gel Polish: 4g
1 x Le Mini Macaron Mini Gel Top Coat: 4g
1 x Le Mini Macaron Sheet of Holiday Mini Nail Stickers
10 x Le Mini Macaron Manicure prep pads
3 x Le Mini Macaron Nail Files
1 x Le Mini Macaron Mini Sanding Sponge
20 x Le Mini Macaron Gel Removal Wraps