lego star wars Advent CAlendar 2023
Overview – Lego Star Wars Advent Calendars
Lego Star Wars, a collaboration between Lego and the Star Wars franchise, offers an extensive range of construction sets and minifigures that recreate Star Wars adventures. Originating from the Lego Group's partnership with Lucasfilm, it's a beloved collection cherished by fans of all ages worldwide. All the details you need about the Lego Star Wars Advent Calendar are available here.
The LEGO Star Wars 75366 Advent Calendar 2023 features 24 Star Wars-themed surprises, including holiday-themed characters, vehicles, and accessories from various Star Wars series.
Boy's Advent Calendar, Lego Advent Calendar 2023, Lego Friends Advent Calendar, LEGO City Advent Calendar, Kids Advent Calendar 2023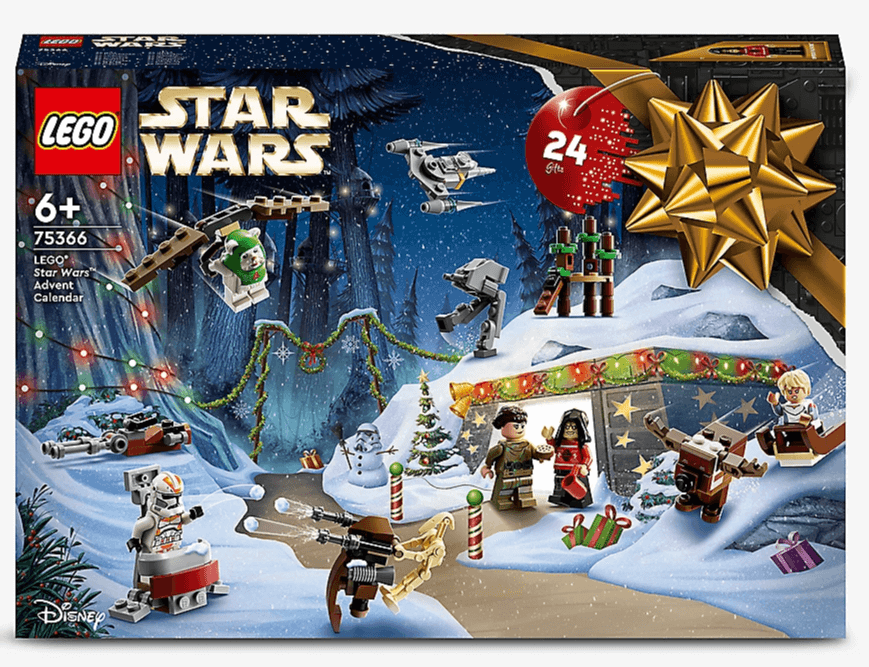 The LEGO Star Wars Advent Calendar 2023 contains 320 pieces including eight characters, Ewok, Pit droid, Gonk droid, various mini build vehicles, and other mini builds. Suitable for 6+ years old.
£ 30,00 via selfridges.com, £ 29,99 via boots.com, £ 34,99 via debenhams.com*, £ 29,99 via lego.com*, £ 29,99 via whsmith.co.uk, £ 29,99 via smythstoys.com, £ 30,00 via next.co.uk oder £ 30,00 via argos.co.uk
LEGO Star Wars™ Advent Calendar 2023 – Content
The LEGO Star Wars 75366 advent calendar is a 320-piece set. It features eight characters, alongside an assortment of mini build vehicles and additional mini builds. This set also includes certain unique character builds related to the Star Wars universe. The finished product measures 38cm in height, 26cm in width, and 7cm in depth. The calendar is recommended for individuals aged 6 and above, but it isn't suitable for children under 3 years due to the presence of small components that may pose a choking hazard.
8 x characters
1 x Emperor Palpatine
1 x Ewok
1 x Pit Droid
1 x Gonk Droid dressed as a reindeer
1 x Omega with a sledge
1 x 212th Clone Trooper
1 x B-1 Battle Droid
1 x Princess Leia figure
10 x mini build vehicles
5 x more mini builds