Nuxe Advent calendar 2023
Overview – Nuxe Advent Calendars – TOP list
Nuxe, a renowned French skincare brand, is celebrated for its luxurious skincare products, including the iconic Huile Prodigieuse® and Prodigieux® range. This year, immerse yourself in the Nuxe experience with the Nuxe Advent Calendar 2023, featuring 24 treasures for radiant skin. Find out all the details about the Nuxe Advent Calendar 2023 here.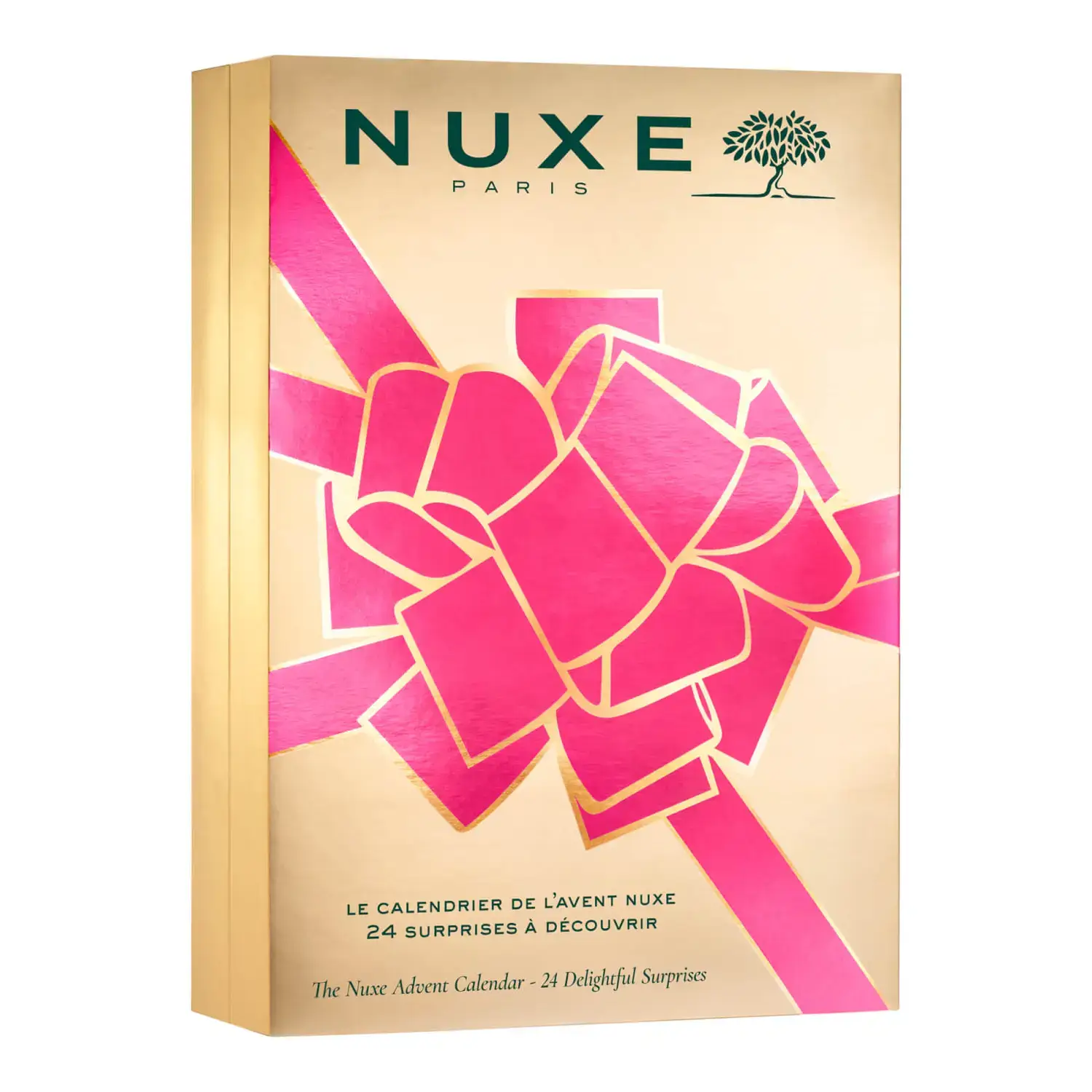 The Nuxe Skincare Advent Calendar 2023 is a limited edition item comprising 24 skincare products from the Nuxe brand. Items include cleansing gels, moisturising creams, perfumes, shower gels, and a scrub originating from various Nuxe lines such as Huile Prodigieuse®, Prodigieux®, Very Rose, and others. All components, including the cardboard packaging, are produced in France.
Nuxe Collection Advent Calendar 2023 – Content
Nuxe's 2023 Collection Advent Calendar offers 24 daily skincare surprises, including oils, perfumes, moisturizers, and exfoliants, for a delightful holiday countdown.
– Huile Prodigieuse® Florale 10 ml
– Prodigieux® Floral le parfum 1.2 ml
– Prodigieux® Floral Scented Shower Gel 30 ml
– Very Rose 3-in-1 Soothing Micellar Water 50 ml
– Prodigieuse® Boost Multi-Correction Glow-Boosting Gel Cream 15 ml
– Aquabella Micro-Exfoliating Purifying Gel 15 ml
– Crème fraîche de beauté® Moisturizing Plumping Cream 48H* 15 ml
– Nuxuriance Gold Nutri-Fortifying Oil Cream 15 ml
– Prodigieux® Neroli Relaxing Scented Shower Gel 10 ml
– Huile Prodigieuse® Riche 10ml
– Rêve de Miel Lip Moisturizing Stick 4 g
– Rêve de Miel Ultra-Rich Cleansing Gel face and body 30 ml
– Rêve de Miel Hand and Nail Cream 15 ml
– Rêve de Miel Face Cleansing and Make-Up Removing Gel 15 ml
– Rêve de Miel Ultra-Comforting Face Balm 15 ml
– Crème fraîche de beauté® 48H Moisturizing Cream 3-en-1* 15 ml
– NUXE Body Rêve de Thé – Revitalising Granular Scrub 30 ml
– Merveillance Lift Firming Powdery Cream 15 ml
– Merveillance Lift Concentrated Night Cream 15 ml
– Huile Prodigieuse® 10 ml
– Prodigieux® le parfum 1.2 ml
– Prodigieux® Shower Oil – Precious Scented Shower Oil 30 ml
– Prodigieux® Scented Lotion – Beautifying Body Lotion 30 ml
– Huile Prodigieuse® OR 10 ml