Organic Advent CAlendar 2023
Overview – Organic Advent Calendars 2023
The Organic Advent Calendar 2023 embraces Christmas with a commitment to organic living, featuring renowned brands like Nature's Path and Organic Valley. Discover daily eco-friendly and sustainably sourced surprises, adding a festive touch to your holiday season.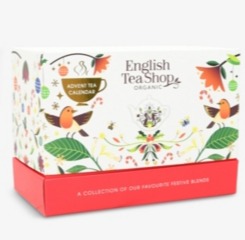 The English Tea Shop's Advent Calendar features 25 tea bags with a mix of traditional and unique flavours. The display is organised and visually attractive. Targeting a broad audience, it caters to organic, kosher and vegetarian preferences. The product is produced in Sri Lanka.
English Tea Shop – Organic tea festive blends advent calendar box of 25 | Selfridges.com – Content
Introducing the English Tea Shop's Advent Calendar, a tea lover's dream with 25 bags of diverse tea flavors, suitable for various preferences and made in Sri Lanka. Enjoy daily tea delights without revealing specifics.
2x White Tea, Coconut & Passion Fruit
2x Rooibos, Cocoa & Vanilla
2x White Tea Tropical Fruit
2x Mint Black Tea
2x Revive Me
2x Energise Me
2x Super Berries
2x Cinnamon, Moringa & Ginger
2x Mighty Matcha
2x Coffee Cocoa
2x Peachy Keen
2x Seasonal Siesta
1x Black Tea Tropical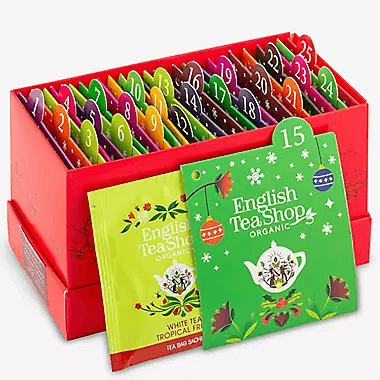 Tea Advent Calendar, Vegan Advent Calendar, Women Advent Calendars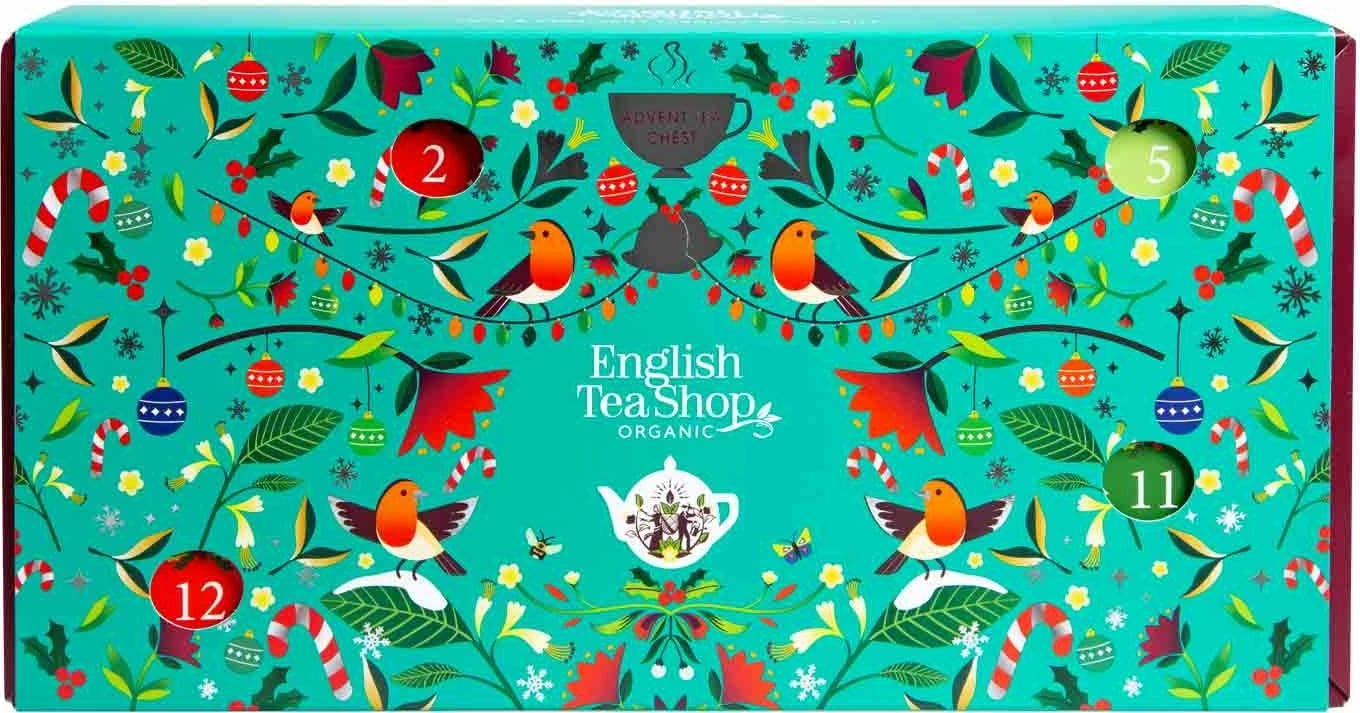 The English Tea Shop Tea Christmas Calendar holds 25 bags of premium and organic blended teas. The variety includes black, green, herbal and spiced teas. Ingredients include ginger, lemongrass, licorice, cinnamon, hibiscus and rosehip.
English Tea Shop -Tea Chest Advent Calendar – Content
The English Tea Shop's Tea Christmas Calendar offers 25 premium blended teas, a great gift for tea lovers during the holidays.
Ceylon Black Tea
Turmeric (Curcuma), Ginger & Lemongrass
Sencha Green Tea
Apple, Rosehip & Cinnamon
Cranberry, Hibiscus & Rosehip
Ceylon Cinnamon
Mate, Cocoa & Coconut
Lemongrass, Citrus & Ginger
Cocoa, Cinnamon & Ginger
Holiday Boost
Winter Balance
Winter Warmer
Tropical Lemongrass