Selfridges Advent CAlendar 2023
Meet the Selfridges Advent Calendar
Created by the legendary London department store known for their dedication to luxury fashion and lifestyle products. This calendar offers daily surprises that embody Selfridges' commitment to curated excellence, making your holiday countdown a journey through the finest in fashion, beauty, and indulgence. Check the details about the Selfridges Advent Calendar 2023.
The Villeroy & Boch Advent Calendar 2023 contains 24 small porcelain figurines. Accompanied by a matching porcelain tree, this set provides an elegant countdown to Christmas. It requires simple maintenance, just a clean, dry cloth for wiping.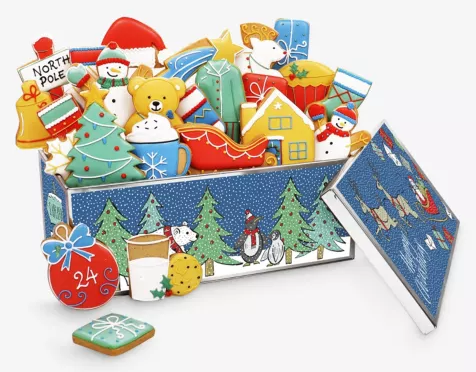 The BISCUITEERS 24 Biscuit Animal Advent Luxe 2023 is an advent calendar composed of 24 biscuits made with ingredients including wheat flour, calcium carbonate, iron, niacin, thiamin, sugar, butter, golden syrup, egg, baking powder, and various optional additions like vanilla essence, cocoa powder or mixed spice.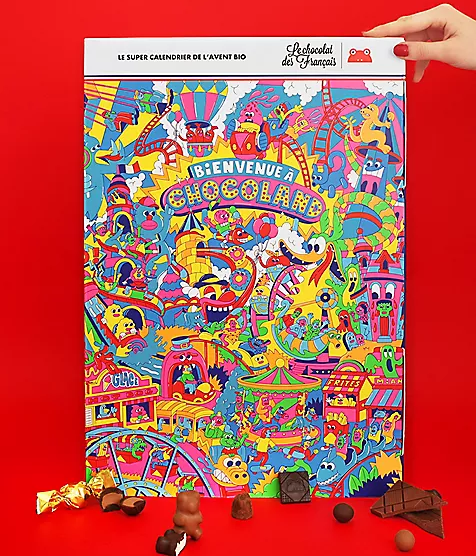 The Le Chocolat Des Francais Advent Calendar contains 24 pieces of chocolate. The packaging displays a theme park inspired design, featuring rollercoasters and cartoon images.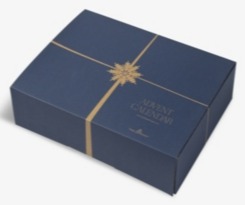 The Royal Copenhagen Advent Calendar 2023 contains multiple porcelain items. Included are an oval dish, a thermal mug, a small bowl, and an espresso cup with a saucer, all in either white fluted or blue fluted mega design. The provided branded gift box features four decoration windows. Hand washing is recommended.
ROYAL COPENHAGEN Four-Piece Porcelain Christmas Advent Calendar 2023 – Content
Unveiling the Royal Copenhagen Advent Calendar 2023 – a compilation of 24 exquisite porcelain pieces. Ranging from charming oval dishes, thermal mugs, petite bowls and tastefully crafted espresso cups with saucers.
White fluted oval dish
White fluted thermal mug
Blue fluted mega small bowl
Blue fluted mega espresso cup & saucer
1 x branded gift box
4 x windows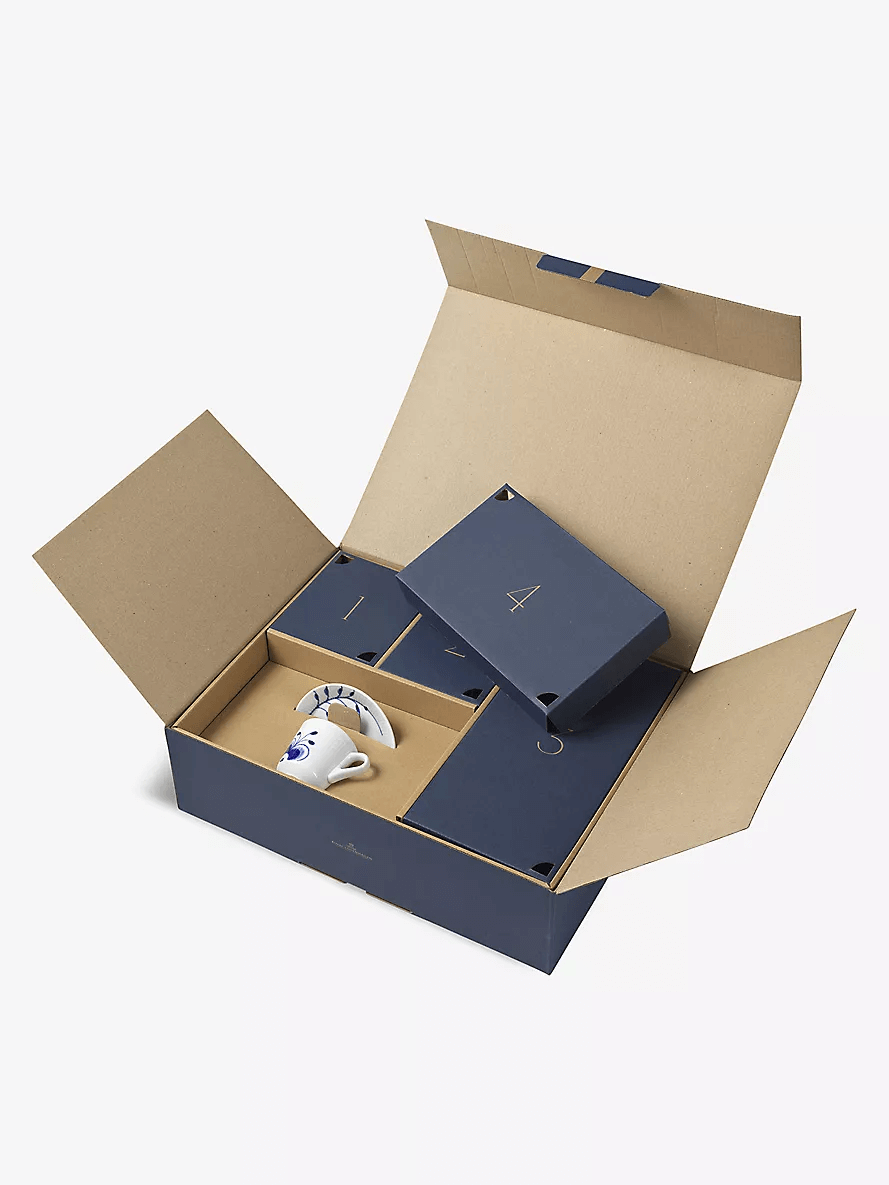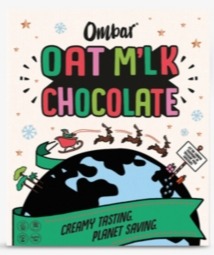 The Ombar Oat M'lk Advent Calendar 2023 contains 24 different sweet treats made from ingredients like raw cane sugar, oat, cacao nibs, and various nuts. It may contain allergens, but is suitable for gluten-free, organic, vegan and vegetarian diets.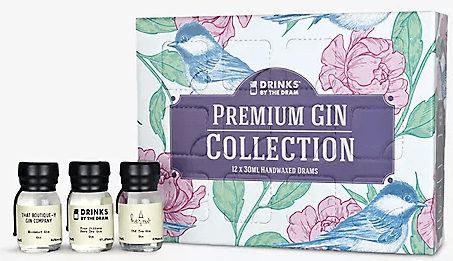 The SPIRIT GIFTING Drinks by the Dram Premium Gin Collection Advent Calendar 2023 features 12 varieties of gin, each in a 30ml serving. It comprises a selection of unique gins from distilleries including Bathtub Gin, Four Pillars Rare Dry Gin, Hernö Old Tom Gin, and more.
SPIRIT GIFTING Drinks by the Dram Premium Gin Collection Advent Calendar 2023 – Content
Delve into the exquisite world of high-end gins with the SPIRIT GIFTING – Drinks by the Dram Premium Gin Collection Advent Calendar, serving up 12 different tantalizing tastes from esteem distilleries worldwide.
Bathtub Gin 30ml
Four Pillars Rare Dry Gin 30ml
Hernö Old Tom Gin 30ml
Moonshot Gin (That Boutique-y Gin Company) 30ml
The London No. 1 Original Blue Gin 30ml
Copper Republic Rooibos & Grapefruit Gin 30ml
Kyrö Gin 30ml
No.3 Gin 30ml
Conker Spirit Port Barrel Gin 30ml
St. George Terroir Gin 30ml
Bobby's Schiedam Dry Gin 30ml
Tobermory Gin 30ml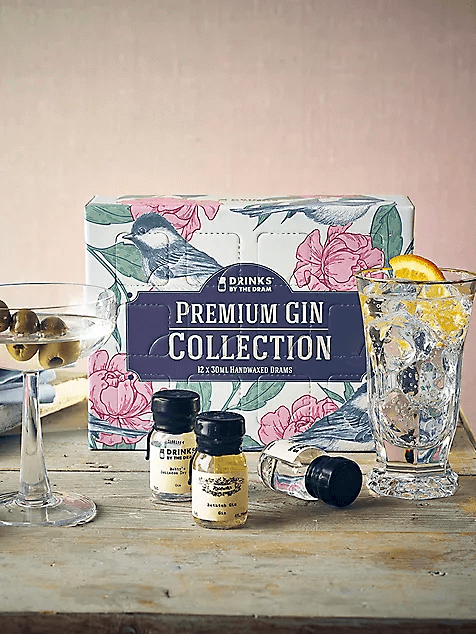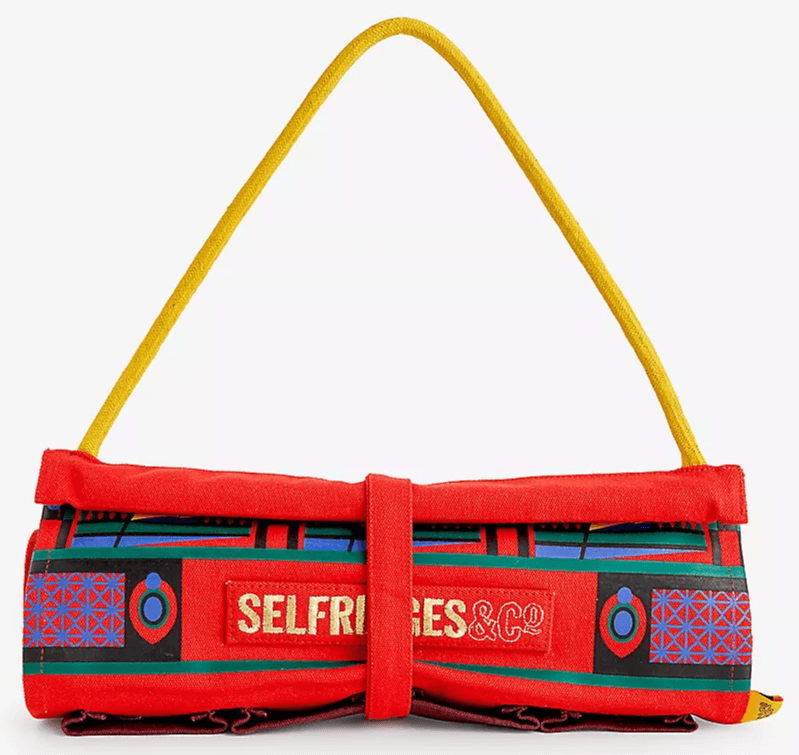 The SELFRIDGES Selection Reusable Cloth Advent Calendar features 24 individually embroidered pockets. It is designed for wall display during December, and can be filled with whichever confectionary you choose.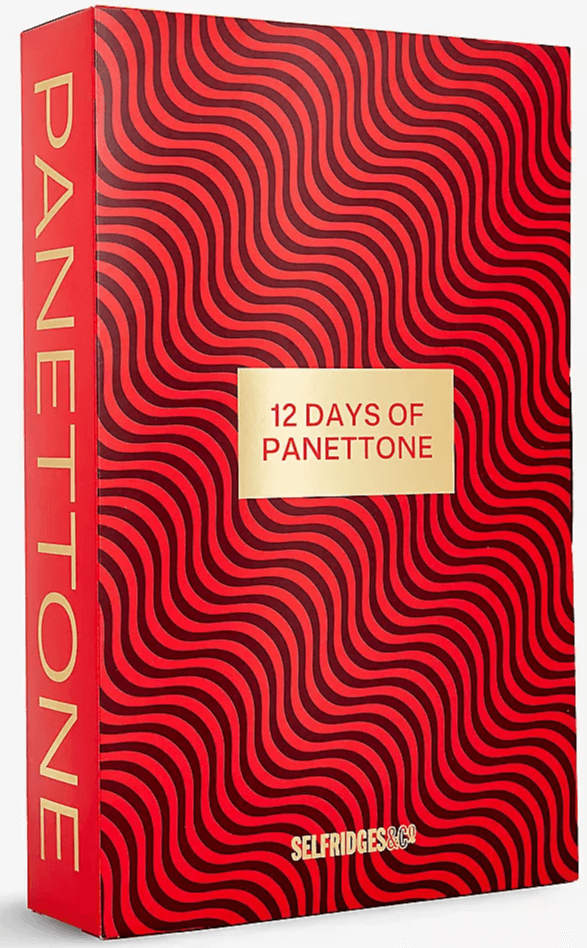 The SELFRIDGES SELECTION – 12 Days of Panettone Advent Calendar 2023 is a joint effort between Selfridges Selection and Fratelli Lunardi. It includes four types of Italian sweetbread, or panettone, in both traditional and novel flavours like candied orange and Belgian chocolate.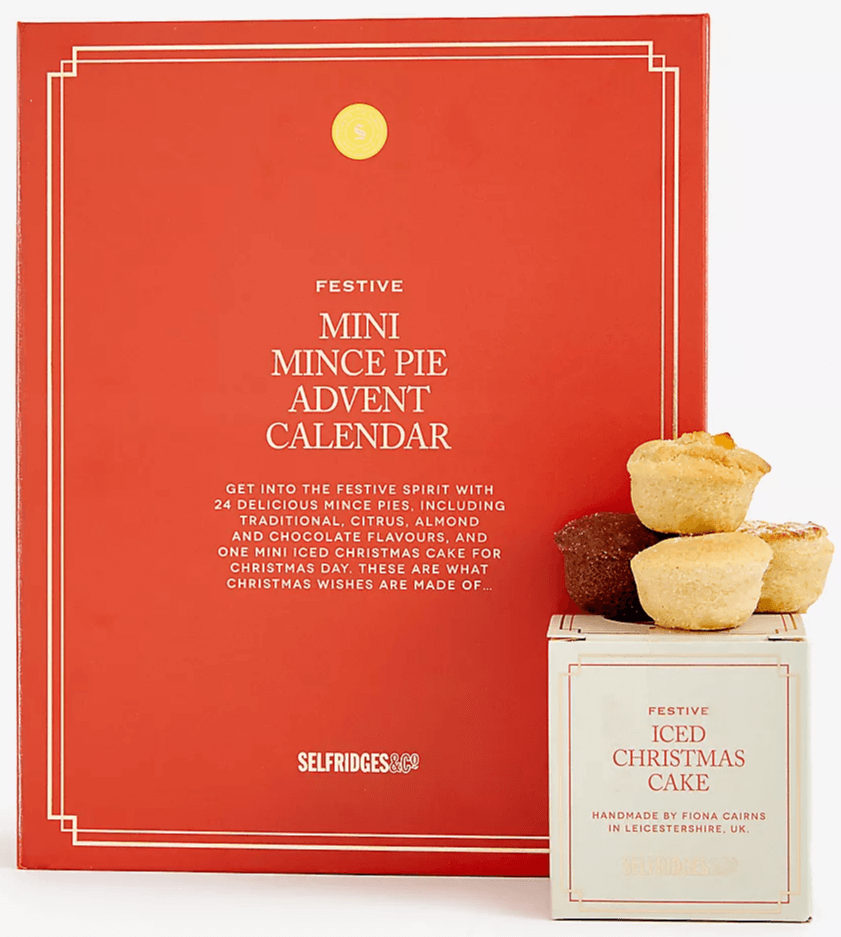 The SELFRIDGES SELECTION – Festive Mini Mince Pie Advent Calendar 2023 contains 24 individually wrapped mini festive pastries. Variety includes classic, citrus, almond, and chocolate flavours. A small Meg Rivers Christmas cake is hidden behind the 25th door.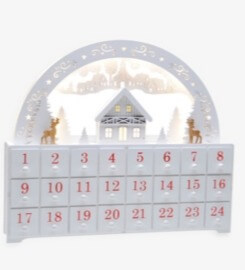 The Village Scene Wooden Advent Calendar is a compact yet spacious item with 24 numbered drawers, one for each day leading to Christmas. This calendar equipped with an LED lighted backdrop. Measuring 43cm in length, 8cm in depth and 37cm in height, it is battery-operated, requiring 2AA batteries which are not supplied. To maintain its condition, a gentle wipe with a dry cloth is recommended.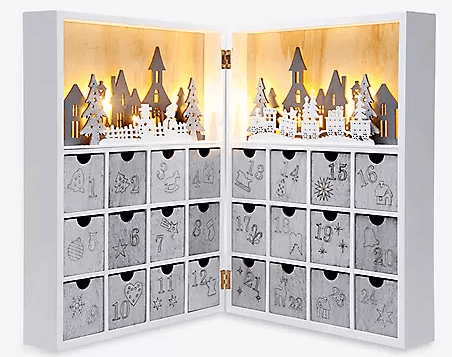 The Folding Light-Up Train Wooden Advent Calendar contains 24 compartments and exhibits a intricately designed, light-up train motif. Entirely wooden, it measures 27.5cm in length, 11cm in depth, and 36.5cm in height. To operate the LED lights, 4 AA batteries are needed.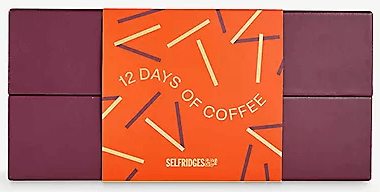 The Selfridges Selection's 12 Days of Coffee advent calendar comprises of 12 pouches filled with variously scented ground coffee. This adorns a variety of tasting notes. The calendar has been planned for an opening each morning, enhancing your breakfast routine.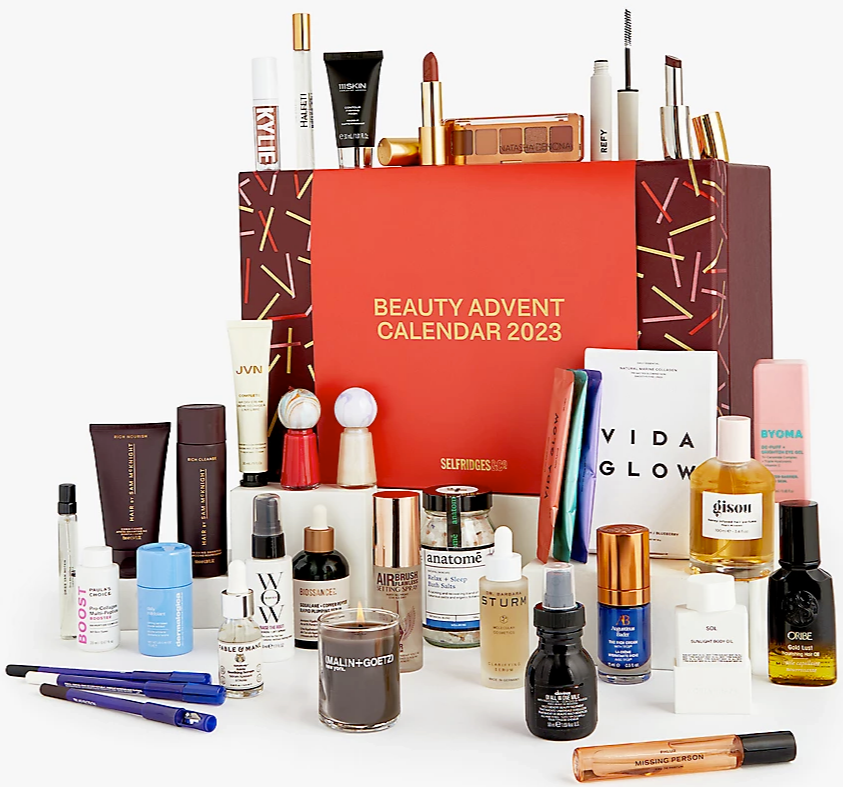 The Selfridges Beauty Advent Calendar 2023 contains 25 drawers, each with hair care, cosmetics, fragrances, skincare, and nail polishes from top brands. Includes a Selfridges Beauty Concierge gift card. Total value exceeds £1094.
Selfridges – Beauty Worth £1094+ Advent Calendar 2023 – Content
Selfridges Beauty Advent Calendar is worth over £1094, includes daily beauty surprises such as skin care, nail polishes and more, plus a Selfridges Beauty Concierge gift card.
REFY Brow Sculpt 8.5ml
Dr. Barbara Sturm Clarifying serum 30ml
Natasha Denona mini bronze eye palette 4g
Fable & Mane SahaScalp Amla soothing serum 14.4ml
Charlotte Tilbury setting spray 34ml
Paula's Choice Niacinamide Booster 20ml
Lisa Eldridge Luxuriously Lucent lip colour 3.5g
Sam McKnight Rich Nourish shampoo 100ml
Sam McKnight Rich Nourish conditioner 75ml
PHLUR Missing Person eau de parfum 9.5ml
MALIN+GOETZ Dark Rum scented candle 67g
Penhaligon's Halfeti eau de parfum 10ml
111SKIN Rose Quartz liquid mask 30ml
Davines OI All In One milk 50ml
JVN Hair Air Dry creme 30ml
Color Wow Raise the Root spray 50ml
Dries Van Noten Soie Malaquais eau de parfum 10ml
Costa Brazil Sunlight body oil 30ml
Anatomē bath salts 168g
Vida Glow Natural Marine collagen supplement pack of six
Biossance Squalane + Copper Peptide rapid plumping serum 50ml
Augustinus Bader Rich Cream 15ml
Paco Rabanne Colourshot 10ml
Dermalogica Daily Milkfoliant 13g
True Fiction Pencil Liner set of three
Gisou Hair Fragrance 100ml
Kylie Cosmetics by Kylie Jenner lip plumping gloss 7ml
Byoma De-Puff & Brighten eye gel 20ml
Oribe Gold Lust hair oil 50ml
Byredo lipstick 3g
Pleasing Vine Ripe nail polish 13ml
Pleasing Pearly Tops nail polish 13ml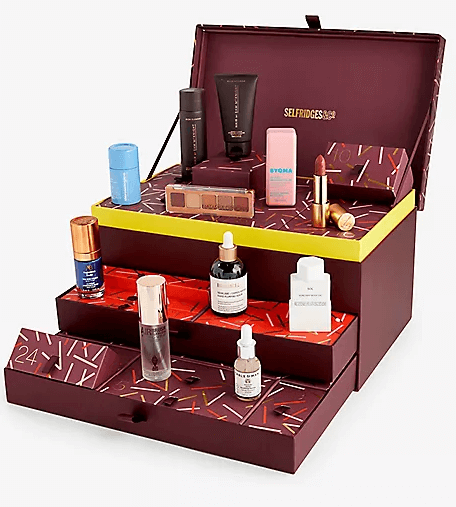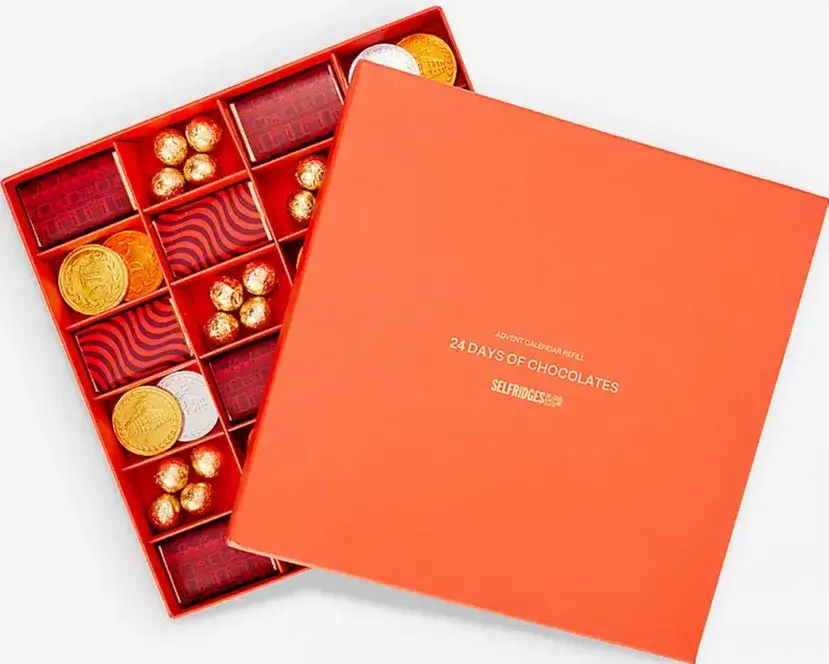 The Selfridges Selection – 24 Days of Chocolates Advent Calendar Refill offering a collection of chocolates for each day of December. Crafted by confectionery specialists, it includes diverse, creamy chocolates intended for a reusable calendar. The product features ingredients such as soya and soybean.