Tea Light Bases
DIY tea light bases with messages for the advent calendar
These 24 tea light bases make a cool DIY gift idea for your homemade advent calendar.
On the base of each little tea light, a new beautiful, funny or surprising message will appear to your friend or loved one, as soon as the wax melts.
The tea light bases are so easy to make, that you can do them even if you are short on time.
You need:
Tea lights in aluminium cases, such as these
Paper
Printer
Scissors
Needle or pin
And here we have some wonderful tea light messages for you to download for free: 24 tea light messages
How to make the tea light messages:
Download the

free tea light messages

Print off and cut out the tea light bases with sayings
Disassemble the tea lights – pull on the wick so that the wax comes out of the aluminium cases
Pull on the small aluminium circle under the wax to remove the wick – you may need to loosen the wick using the needle
Make a small hole through the centre of the tea light message using the needle and widen it a little
Push the wick through the tea light message
Push the wick back through the candle wax and place it all back in the tea light case
The tea lights with base messages are done!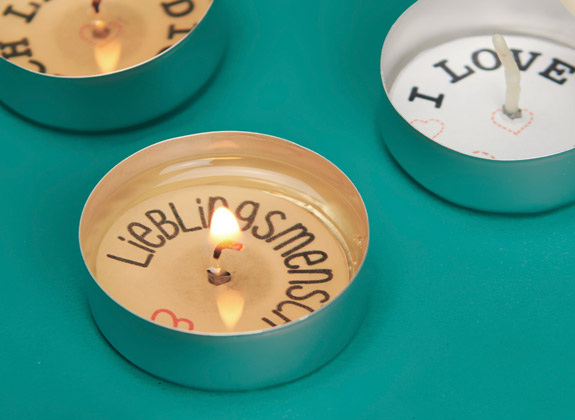 When you light the tea light, you will have to wait a little while for the wax to melt so that it is see-through and you can see the base message.
In addition to putting these DIY tea lights in advent calendars, you can also use them for your New Year party.
Transparent tea lights
In addition to tea lights in aluminium cases, there are also tea lights in clear cases, which can create a very charming ambience.
You can buy tea lights with plastic cases
Have fun with your tea light base creations!