TEMPLESPA Advent calendar 2023
Overview – TEMPLESPA advent calendars
Welcome to the TEMPLESPA Advent Calendar, known for its premium skincare and wellness products inspired by the Mediterranean. Elevate your holiday season with daily indulgence in rejuvenating self-care essentials.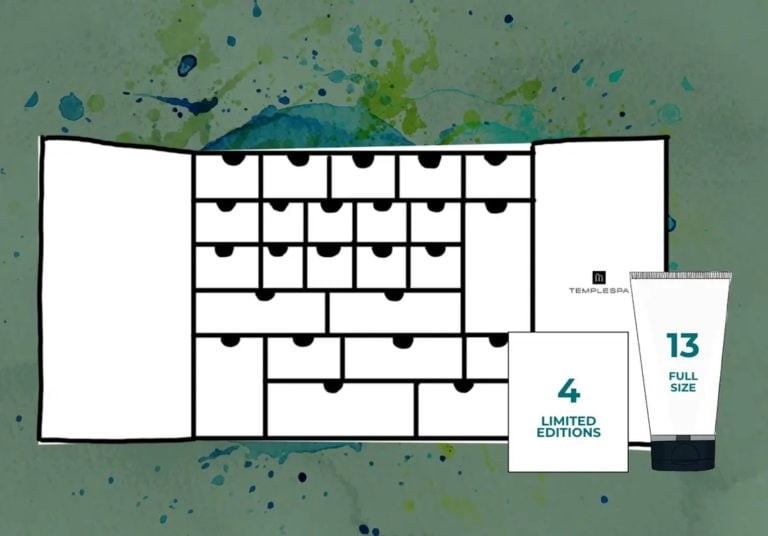 The Templespa Advent Calendar 2023, produced by TEMPLESPA, encompasses 24items. Within this selection, both full-sized products and limited edition goods from the brand's range are represented.
Templespa Advent Calendar 2023 – Content
Experience beauty magic with the Templespa Advent Calendar 2023. Featuring 24 premium items, it combines full-sized essentials and limited edition gems to elevate your skincare. From face creams to candles, each delivers a spa-like experience at home.
Windows Of The Soul Eye Cream for Dark Circles 15ml (full size)
Temple Spa Christmas Tree Star Ornament
Temple Spa Metal Application Spatula
Let's Concentrate Skin Glowing Serum (travel size)
Breath Of Life Aromatherapy Inhalation Essence 10ml (full size)
Exalt Neck Firming Cream (travel size)
Trufflesque Luxury Anti-Ageing & Anti-Wrinkle Mask (travel size)
IT'S ALL GOOD Nutritious Boost Facial Oil 30ml (full size)
Peace Be Still Calming Skin Balm 150ml (full size)
Be Quiet Soothing Milky Toner 20ml (travel size)
Be Still Face Moisturiser for Sensitive Skin (travel size)
Lovely Day Instant Bronzing Gel 30ml (full size)
La La Lagoon Aromatherapy Luxury Bath & Shower Gel 150ml (full size)
Breakfast Smoothie Exfoliating Face Scrub & Mask 100ml (full size)
Sugar Buff Sugar Body Scrub 220g (travel size)
AAAHHH! Instant Cooling Balm 150ml (full size)
In The Beginning Deep Pore & Exfoliating Cleanser (travel size)
Repose Relaxing Night Cream 50ml (full size)
Palm Balm Luxury Hand Cream for Dry Skin 75ml (full size)
Toning Essence Alcohol-Free Hydration Toner 150ml (full size)
Siesta Luxury Votive Candle (travel size)
Do Not Disturb Luxury Sleep Mask
From Strength To Strength Nail & Cuticle Treatment Serum 30ml (full size)
Skin Truffle Brightening & Rejuvenating Face Cream 50ml (full size)