molton brown Advent CAlendar 2023
Overview – Molton Brown Advent Calendars 2023 – TOP list
Molton Brown, hailing from the United Kingdom, is an esteemed brand celebrated for its luxurious bath, body, and skincare products. They are renowned for their exquisitely crafted fragrances and indulgent toiletries. Learn more about Molton Brown Advent Calendars 2023 here.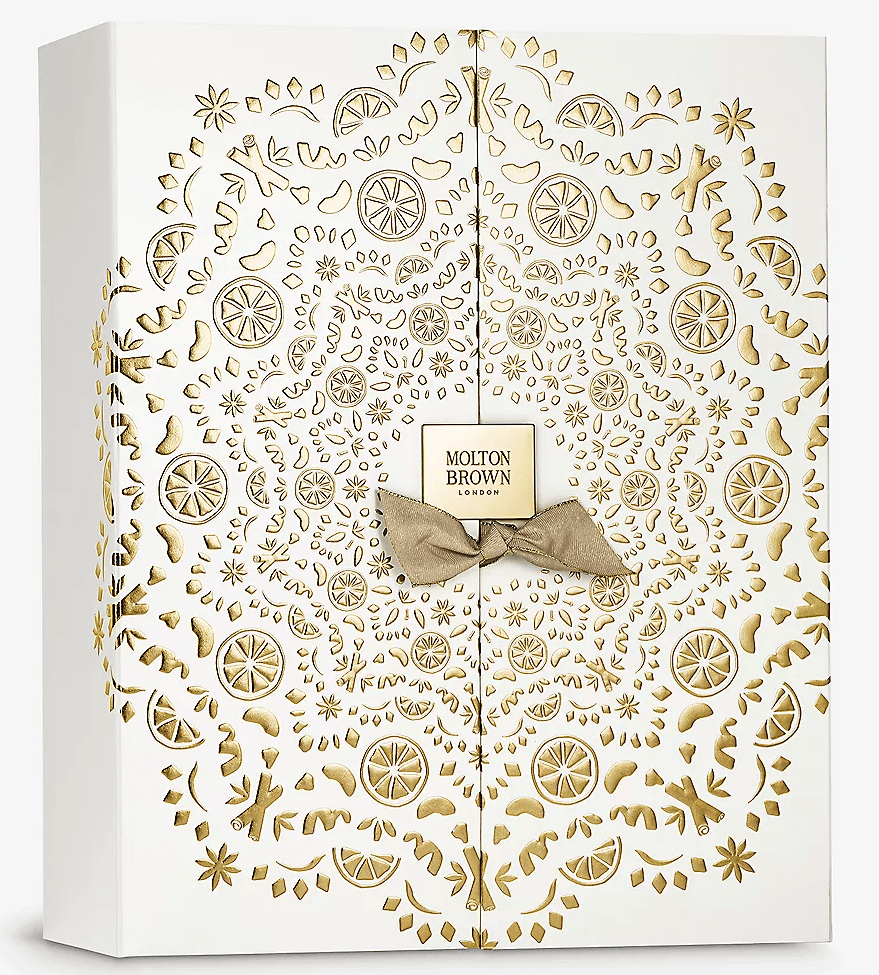 The Molton Brown Advent Calendar features embossed oranges and cinnamon sticks, design reflecting British Christmas cake ingredients. Inside are a variety of beauty products, such as shower gels, hand creams, and eau de toilettes.
£ 210,00 via selfridges.com, £ 157,50 via johnlewis.com, £ 210,00 via row.feelunique.com*, £ 210,00 via cultbeauty.co.uk, £ 210,00 via lookfantastic.com* oder £ 210,00 via sephora.co.uk*
Molton Brown – Advent Calendar – Content
Introducing the Molton Brown Advent Calendar, featuring 24 delights for a festive countdown. Unwrap scented shower gels, soothing hand creams, and exquisite eau de toilettes.
Marvellous Mandarin & Spice Festive Bauble 75ml
Orange & Bergamot Eau de Toilette Travel Case Refill 7.5ml
Fragrance Travel Case
Re-charge Black Pepper Bath & Shower Gel 100ml
Intense Repairing Hair Mask With Fennel 50g
Coastal Cypress & Sea Fennel Eau de Toilette Travel Case Refill 7.5ml
Delicious Rhubarb & Rose Hand Cream 40ml
Heavenly Gingerlily Caressing Bathing Oil 200ml
Fiery Pink Pepper Eau de Toilette Travel Case Refill 7.5ml
Marvellous Mandarin & Spice Fine Liquid Hand Wash 300ml
Marvellous Mandarin & Spice Hand Lotion 300ml
Flora Luminare Eau de Parfum Travel Case Refill 7.5ml
Hydrating Shampoo With Camomile 100ml
Hydrating Conditioner With Camomile 100ml
Vintage With Elderflower Festive Bauble 75ml
Tobacco Absolute Eau de Parfum Travel Case Refill 7.5ml
African Whitewood Balancing Face Wash 30ml
Flora Luminare Hand Cream 40ml
Coastal Cypress & Sea Fennel Fine Liquid Hand Wash 100ml
Ultra-Light Bai Ji Hydrator 30ml
Re-charge Black Pepper Eau de Parfum Travel Case Refill 7.5ml
Orange & Bergamot Radiant Body Oil 200ml
Delicious Rhubarb & Rose Festive Bauble 75ml
Re-charge Black Pepper Mini Scented Candle 25g